In our 2nd week of From Zero To Organized we are going to organize the things we are trying to remember. While that seems like a daunting task, so does trying to actually remember it all, and you truly can't remember everything. As a mom, full time worker, writer and social media consultant there is NO way I can possibly remember everything entailed in all of those things.
I'm sure you wear many hats as I do, how do you keep track of all of the things you do? Where do you keep your to-do lists, if you actually do one? Where do you keep your appointments? How do you keep track of everything the kids do?
Just looking at the above paragraph makes me dizzy. I will tell you there is no hard and fast rule here. I call keeping track via external systems downloading your "remember this".
FIGURE OUT WHAT YOU KEEP TRACK OF
First step to downloading your "remember this" is to sit down with a piece of paper and write down EVERYTHING you keep track of. For example here are mine: my appointments, my kids appointments and events, shopping lists, to-do list for myself, to-do list for writing, to-do list for my husband, when bills are due (especially automatic payments) and editorial calendars for the 3 sites I write for.
HOW WILL YOU KEEP TRACK?
Once you have your list of things to keep track of dig deep and think of the ways you would be able to maintain the external "remember this". In other words if you are into tracking things electronically then get on-line and on your phone to find options that work for you.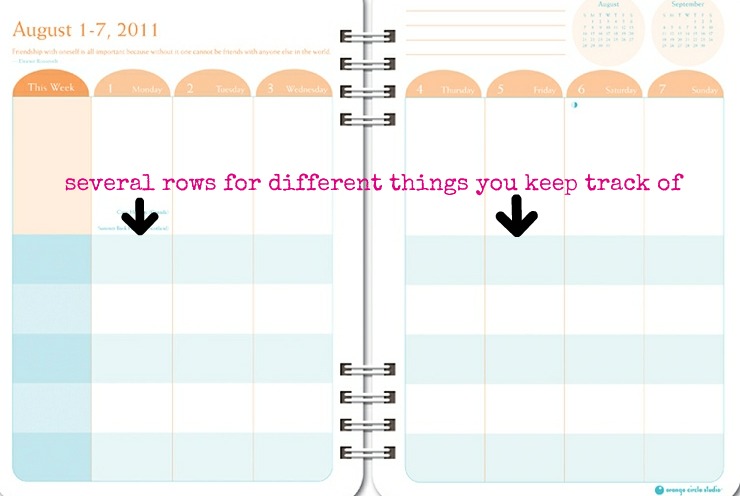 If you're a write it all down get yourself a calendar that can handle multiple things like a MomAgenda or Orange Circle Studio Do-It-All. I have used both (MomAgenda review 1, MomAgenda review 2 and Orange Circle Studio review) and loved them. They have slots on the bottom for kids appointments, but you could easily use those for editorial calendars etc. As a matter of fact I used one of the kid rows to track bills when I used them.
WEIGHING YOUR OPTIONS
I utilize several different things to bring it all together. I use Google Calendar, Cozi and a journal for writing.

For calendars the possibilities are endless. I use Google Calendar to track all of my appointments and the kids appointments. The plus side to this is that I have access to R's calendar and vice-versa. This way we also know each other's availability. I also use it for my editorial calendar by using the tasks portion for posting. I put a task in the day before I want to post it on my sites or when they're due for other sites. It's easy to check off and syncs with the tasks app on my [Droid] phone.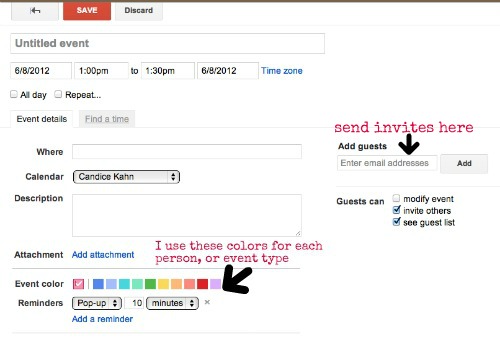 For appointments I use color coding for each person, but that can be tough for anyone to do. It's not necessary, but it brings the pretty. For instance I use green for all money related items like bills. I also invite R to events so that it syncs onto his calendar. Though he can see mine, I want to be sure he has it visible to him at all times.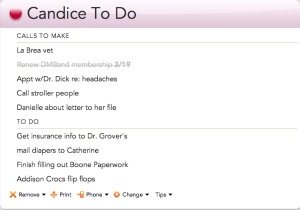 We use a Cozi account for to-do and shopping lists. I keep my personal to-do list there. Basically family life type things to do. I have one and then R has one. This helps because I can add to his to-do list whenever I remember something he needs to do. Cozi also has apps for iPad and out Droid phones which literally makes it so everything is accessible to everyone on the one account.

You can link Cozi to your Google Calendar so that calendar shows in Cozi. However, it does not have the option for you to sync changes made in Cozi to Google. You most definitely could eliminate the use of a separate calendar if this is not an issue for you. If you have older children Cozi is a fantastic tool for multiple members to use, and have the family stuff in one place.
I'm still not 100% digital, and I still like writing things down. I have journals that I write random things in, and do my outlining of ideas. If you like to write out everything go to Take A Notebook for great ways to organize what you write down.
THIS WEEK'S ASSIGNMENT
This week's assignment is to write down what you need to download, then figure out what works best for you, and start inputting. Start a way that works for you, and put it into place. Remember to be honest about what you'll actually use, and don't begin a method of tracking if you'll never use it. That helps no one in the end.
BE PREPARED
My last bit of advice is to put a tiny little pad of paper and pen in every bag you carry. If you're out and about and remember anything at all you have a place to put it. STOP saying to yourself "remember this". Don't put that pressure on yourself to remember things. Just give yourself the tools to keep track easily. You need that space in your memory for other important things, like what shoes did you buy for that dress.
Do you have any great ways to download the "remember this"? If so, please share below so that we can add another option to the possibilities that can help us keep it all together.
Comments
comments