Finding a bathing suit that hides the tummy is not always easy, which is why I set out to Macy's store on-line to see if I could find anything. To my surprise I found many bathing suits I was in love making it really hard to narrow it down to get just one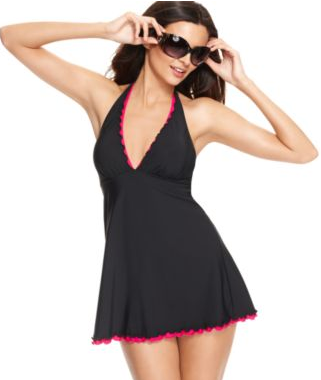 I've had 3 children via c-section, and my tummy area is not what it was previous to having children. I have to wear something that hides my tummy. I wound up going with the Bal Harbour Halter One Piece Ruffle Swim Dress in black rasperry. I was looking at mostly suits that had tiny skirts, to give my behind a little extra coverage.
I'm not a lover of 1-piece suits because they seem to be too short, for what I can only assume is an abnormal torso. Monokinis are great, and easier to find the right fit. Imagine my surprise when I chose a 1-piece, and it fit me really well. My mom and husband said it was very flattering on me, so I was pretty happy.
Here are some other tummy hiding suits I found at Macy's on-line:
What style bathing suitdid you get this summer? Did you find a great tummy control suit?
GiggaSavvy sent me this swimwear  for review. No other compensation was received. The opinion above is my own swayed only by my inner Fashionista.
The picture above was taken with my T-Mobile HTC One S.
*******************
Want some more Fashion Friday fun?
There's a
Fashion Friday
blog hop at Blonde Episodes, and
…another blog carnival by some great ladies with awesome taste.
Comments
comments