As I promised last month in part I of my backyard makeover I would have a huge reveal. I'm about to reveal what has been a life changing transformation. We've lived in this house for 3.5 years and having a useable backyard has made everyone so happy.
As part of the Lowe's Creative Ideas Blogger Network I was challenged to do a backyard makeover with $300 to buy what I needed at Lowe's. After I've [almost] finished everything I learned 2 very important lesson: 1) when you can't do what you planned to in your home, don't wait for the right time. In other words not utilizing the backyard because we were going to re-do it, was a huge mistake. Make the best of what you have; and 2) even with big carefully thought out plans like a backyard, everything will change in instant and be able to adapt quickly.
Without further ado….
As I mentioned in part I of my backyard makeover I had a canopy and was using that as my basis for a seating area. I got 4 of the Red Adirondack chairs, a foldable frog chair for my 3.5 year old, a side table, string of solar lanterns and already had 3 of the solar hanging deck lights. The wall on the playroom is not very pretty, so we put a few pieces of redwood lattice, and it changed everything. To make sure the canopy is weighted down there are terra cotta pots filled 3/4 with sand. On top of the sand I put potting soil, and planted flower seeds in there. Each leg has a different flower.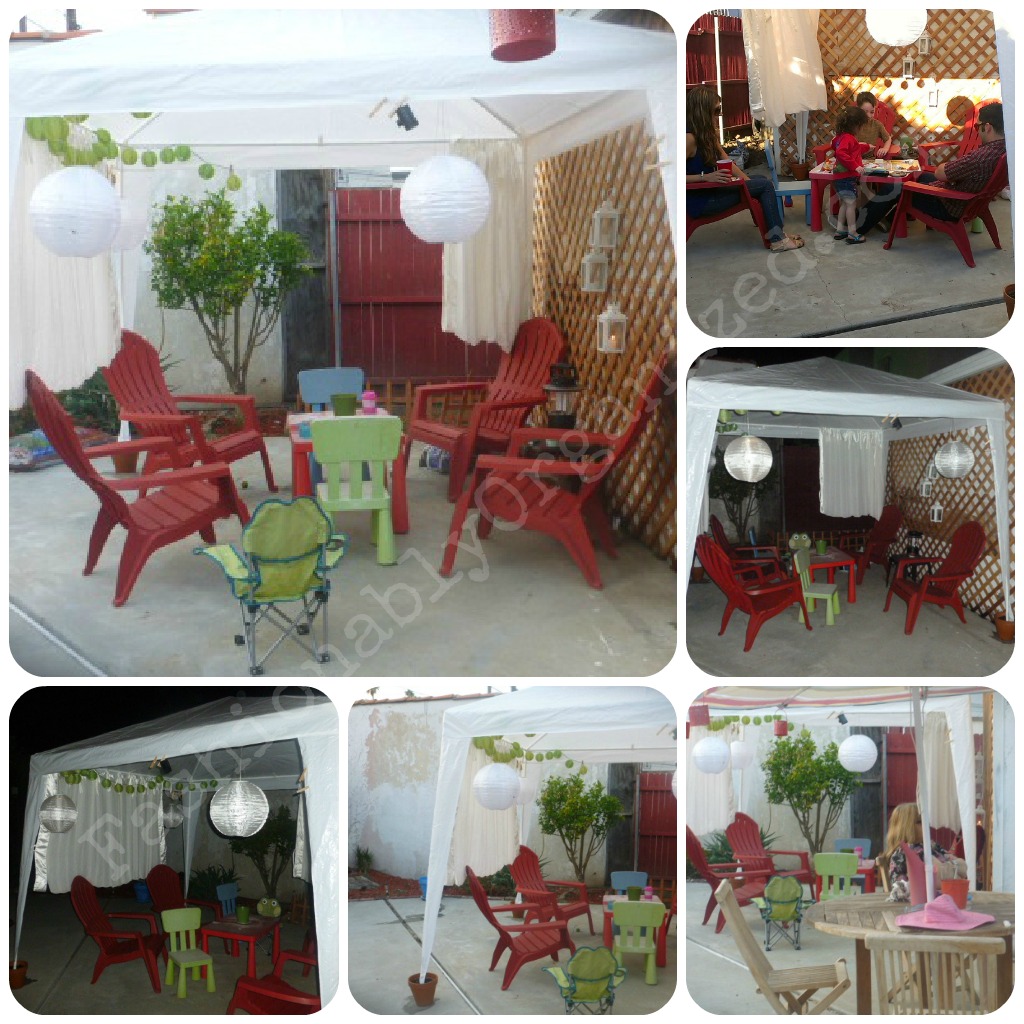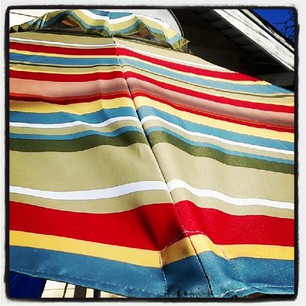 Our teak table and chairs needed a new umbrella so we got the Garden Treasures striped umbrella.
I wholeheartedly admit that I have a black thumb. When I started to plan this makeover I had decided that I would put some plants in the few spaces where I could. R was not to keen on having dead plants everywhere, which is what would happen if I had to water, and remember to take care of them. Since putting in a sprinkler system was time and money consuming I found a great alternative: a drip irrigation system.
I planted succulents with red mulch to bring color to the backyard.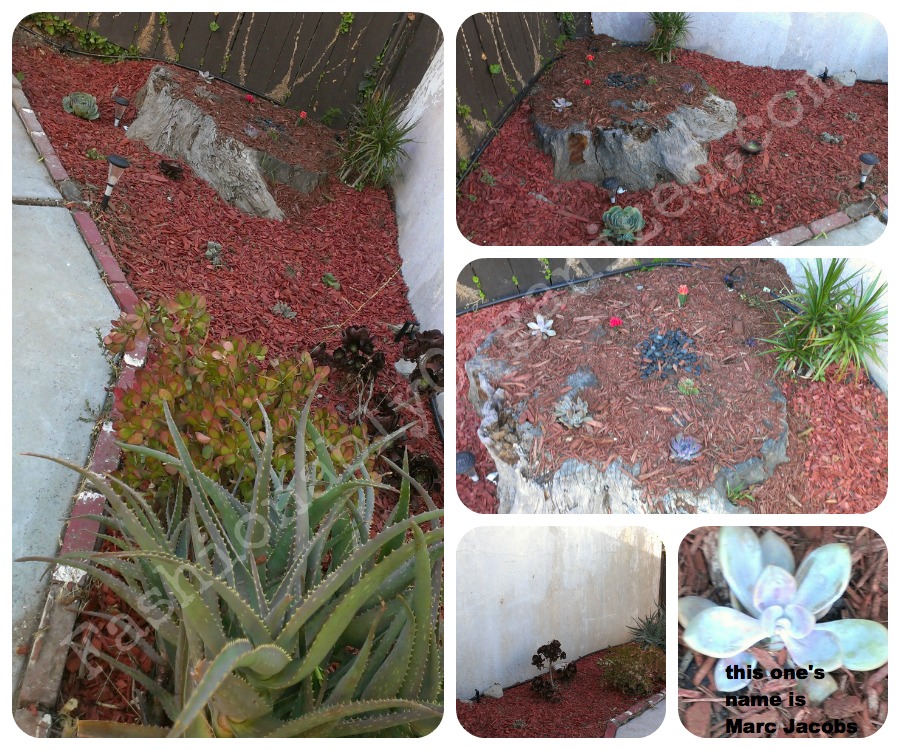 I also went to the clearance area in the garden center and rescued some otherwise dying plants. I highly recommend checking out the garden mark downs. I bought $30 worth of plants for $6. I planted them in a small little area under the boys' room window, and they are growing just fine.
You may remember that I was going to plant something against the back fence between the concrete and the fence. We were able to take some of the bulbs from my parents place, and planted them there. We got so excited about the new backyard I cleared out the small little side yard, and we're going to plant vegetables and herbs. Right now the seeds are in Jiffy Pots germinating.
All of this work had to end with a good cleaning. With the Mr. Clean Magic Eraser Outdoor Pro and Mr. Clean Outdoor Pro Spray all of the dirt from digging and planting came off of all of the furniture. The one thing that made a HUGE difference was the Dawn Grill Cleaner. Once the 15 minutes were up, and it was time to rinse the grates I could not believe what was coming off.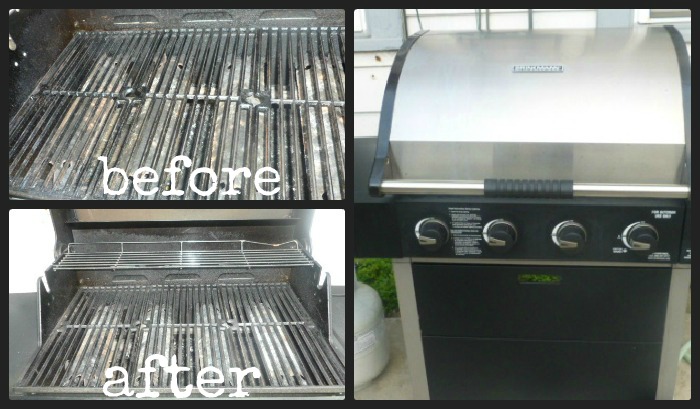 All of this is wonderful, but the best happened 2 weeks ago. E (my 6.5 year old) came to me while I was sitting in a chair in the backyard and said, "mom I love our new backyard, it's so cool." If that's not proof that our new backyard was worth all of the back pain then I don't know what is.
Of course I had some amazing helpers: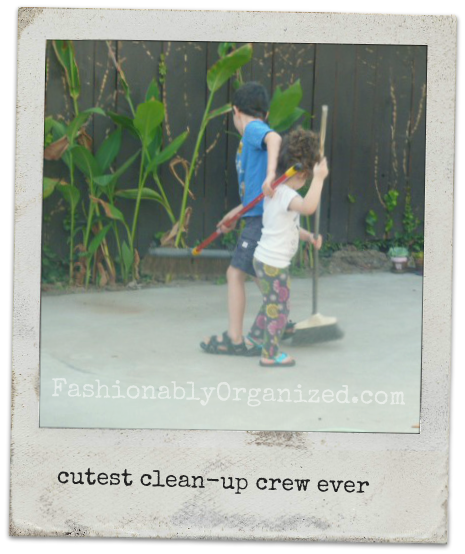 You can visit Lowe's and Lowe's Creative Ideas by going to:
******************************* GIVEAWAY CLOSED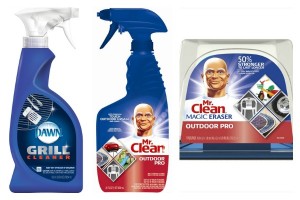 Lowe's Creative Ideas is giving 1 Fashionably Organized reader a $100 gift card. 
AND
P&G is giving one Fashionably Organized reader the outdoor cleaning products I used in my backyard (MSRP $20).
MANDATORY ENTRY: tell me in the comments what is your favorite summer outdoor activity. 2 winners will be chosen. 1 for each prize. This [1] comment is eligible to win either prize.
If you would like to put in additional entries you may do 1 or all below (please leave a comment for each of the following):
– Follow Fashionably Organized on Twitter
– Tweet this giveaway (max 2x's a day) or use the retweet button below:
I entered #LowesCreator @FashOrganized #giveaway to win @ProctorGamble Outdoor Cleaning products or $100 @Lowes GC bit.ly/OaA8NT
All comments must be posted by August 1, 2012, 8 PM PST. The winners will have 48 hours to confirm after receiving the e-mail from Fashionably Organized. This giveaway complies with FTC guidelines, and FB promotions rules. Please see OFFICIAL RULES, for this giveaway. For the purposes of this giveaway the "Sponsors" are Lowe's and P&G.
As a member of the Lowe's Creative Ideas Bloggers & Influencers Network I was given a $300 gift card from Lowe's to purchase my makeover necessities. In addition P&G sent me the outdoor cleaning products I used to finish my backyard makeover. The above opinions are my own swayed only by my inner Fashionista.
Comments
comments