Do you have an outfit that's halfway there, but you just don't know how to finish it? Andrea of Lil Kid Things needed help finishing an outfit for BlogHer '12.
I've joined this fantastic group of bloggers called Chic Blogger Network, and today we are starting a new carnival called Style Me Chic. I took Andrea's outfit and gave her 2 options to finishing it to bring the wow factor to her already great outfit.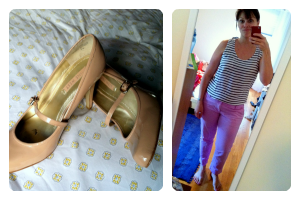 She sent me pictures of her in the outfit and a pair of pumps she'd like to wear with it. It's hard to tell, but the shirt has navy blue stripes.
Firstly there's the outfit with a blazer. One thing is that I felt since I found this gorgeous white lace blazer she needed a shoe with color to contrast the lightness. I found navy ones to tie the shirt in. This outfit would look great with chunky gold jewelry.
Then I decided to do a little work with a cardigan. I partial to cardigan's just because to me they're much more comfortable. I found different options, and one yellow to bring in some bold. For this outfit I think beaded jewelry is the way to go, but it doesn't have to be necklace and bracelet. One or the other is fine. I also added the option of a wide belt. I think that would also bring the outfit a different look.
Andrea I hope this helps you figure out what you want to do for #BlogHer12. I hope to be there, so I can give you a big hug.
Want to see more Style Me Chic outfits? Click on a link below, and make sure to leave a comment letting the person know you stopped for Style Me Chic.
Comments
comments