July 31, 2012: My friend Kim asked me where the post was from last here that gave the advice about the notebook and business cards. I told her I'd repost it for her. She really thought everyone should know about "the notebook" (see #2 below). Instead of pulling it out of this post I thought I'd just repost this post with the notebook in it because there are other things you may want to think before you leave. Have fun everyone.
Well after many posts with mounting excitement, I am now on the other side of my BlogHer experience. This is my 2nd year in attendance, and I can say I actually learned more this year than last year. I wanted to share just some of the things that I learned so that you can learn a bit on how to handle any huge conference.
Yesterday I posted about doing the FlashMob at BlogHer. Today I'll tell you about my after BlogHer thoughts. I'll also have pictures of different things that are random, and some that fit. Consider this the mishmash of the rest of my BlogHer '11 posts. I promise this is the very last one.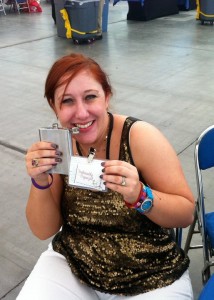 Here's a picture of me just before the FlashMob taken by Jen (@NtJstAnotherJen) of Not Just Another Jen, a fantastic blogger in the SD area. Yes, yes I had to have liquid courage just get out there.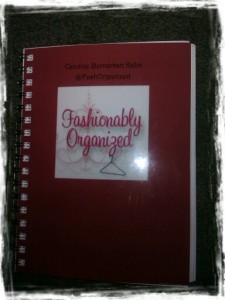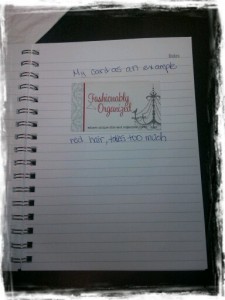 1. Keeping business cards straight: I tried out a new system this year, and it was absolutely fantastic. I bought a notebook with my logo and basic contact information on the front cover from Costco's photo site. The personalized notebook was $7.99, and nothing short of perfect. If you have a Costco membership it is well worth the purchase. I brought a roll of tape and taped the cards onto pages with notes next to/under them. When I got back to my room each night I sat down for about 20 minutes just taping them down and writing these notes while they were still fresh in my brain. For instance where I met them, or what the conversation consisted of. On some I even wrote what the person looked like. I am now going thorough this notebook for follow-ups and thankfully can put together who, what, when, where and why.
2. Put together a great calendar BEFORE you go: This year I tried something new. I put every single party into my Google Calendar including the addresses. Even if they overlapped. I put everything that I RSVP'd to, and when I had time for Expo Hall. I put my roomies stuff on the calendar too. I had everything on my phone because my calendar syncs to my phone. Having it on my phone meant that when I went to the address I could GPS the location. I printed out a copy for us to tape on the wall.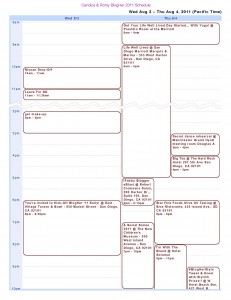 3. Be flexible: As detailed as I was about making my calendar is as flexible I was should have been with my calendar. Just because it's on the calendar doesn't mean you HAVE to go to it. Learn to let go when you need to. I didn't do that enough, and now I feel like I saw no one, and hung out with very few people. I didn't stay where I wanted to because I thought I had to be moving all of the time.
4. Don't RSVP to everything: I swore last year I wouldn't over-do it with piling party on top of party. However, there were so many more fashion and beauty related parties I felt in order to keep up with my niche I needed to get to as many events as I could. Biggest mistake. Most of the time I was just running and never really got to connect with friends, which I regret immensely. There were parties last year that didn't do much for me, but again I RSVP'd to those parties anyway. I will not be RSVPing to any party that I know will only upset me when I realize I was right all along.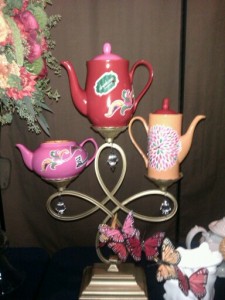 Part of a 1 display at the Hostess With The Mostess launch party
5.
Smaller parties are AWESOME
: The parties where there were 100 or less people were the best for both having fun and connecting with brands. If I go to BlogHer next year I will be picking my parties VERY carefully. I want to go to more intimate gatherings where being with the people there is more important than everything else.
6. Plan more relax time: As is said in #2 above I was a running maniac that never got to sit down. On Saturday I was not only tired, but wearing the tired on my sleeve. I was in a bad mood, which didn't serve me well at all.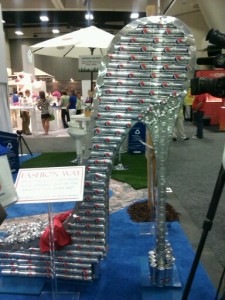 A stiletto heel made of Pepsi cans in the Expo Hall in front of the PepsiCo booth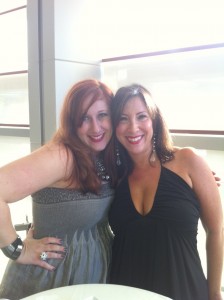 Romy & I at her fantastic wine party #WineRaves
7.
Have a fantabulous roommate
: I was so lucky to have my awesome blogging sister Romy (@romyraves) of
Romy Raves
as my roomy. I couldn't have asked for a better roommate. You know when you just mesh with someone? She never got on my nerves, but maybe I got on hers. On top of all of that she brought magnificent champagne by
Grande Courtage
(@GrandeCourtage) for our room. She even had a great wine party featuring amazing wines by
Cameron Hughes Wine
 (@chwine). Who could ask for more right? I only hope that if I go next year she'll agree to be my roommate again. Oh and she scored a fantastic view for us too.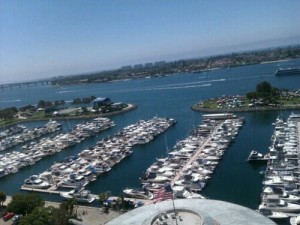 8. Plan more than 1 day down time once I get home: Recuperating from a conference is like getting over a bad hangover. You run run run all day and night and by day 4 you are so exhausted you cannot even see straight. I took Monday off of work, but I had such a horrific headache Tuesday I had to stay home and sleep until the headache subsided.
9. Pack extra dresses: As much as we read everywhere not to pack too much, with all of the events sometimes you just don't want to wear what you planned to wear. I was lucky I had an extra dress I had intended to wear during the day if I needed. However, I dressed that sucker up and bam it was a night dress. Both years I did this. I had planned one thing and went a totally different direction. The minute I put that dress on I felt over dressed, and was so happy to have a fall back dress.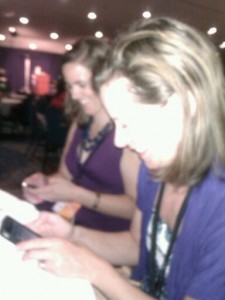 Julie of Just Precious and Kelly of The Centsible Life sorry for the blurry picture
10.
Hug your friends good-bye
: I didn't get to hug my beautiful besties on-line when I left. We were star crossed lovers. I only get to see them once a year if I'm lucky, and I missed the chance to bid them adieu. I'm still devastated by this. Find your friends no matter what. You need to be able to say good-bye.
11. Weed out that swag: This year I really went through the swag and got rid of everything I really didn't need. Samples of this or that just because they were in the bag doesn't mean I need to take it home. I'm sure I still took too much home, but in the end I know I did my best to get rid of what I did not need.
Next year when I start blogging about BlogHer12 I promise to reference this and remind you all of this post, because the lessons learned after the fact are always the reminders we need most.
How was your BlogHer experience?
Comments
comments