By now everywhere you turn you see a BlogHer '12 wrap up. I thought I wasn't going to do one. To be honest I thought there would be so many out there mine would get lost.
I thought I'd take the fashion approach and tell you the great and not-so-great of BlogHer '12. You may be asking why even discuss my fashion, because on Tuesday night I went to Sears with my $200 GC for winning first prize in the Shop your Way contest. I woundup with so many amazing pieces I thought why not roll it all into one post.
The great:
(in no particular order)
No. 1: I'd be remiss in not starting with the fact that my parents used their miles to get me a plane ticket. I really wanted this business trip to help me build my brand, and after another year of unemployment in our house they wanted to do something for me. In the end it only affirms that family is everything.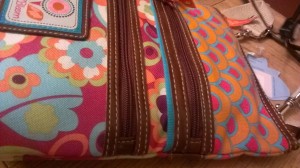 No. 2: My roommates: for the 2nd year in a row my friend Romy was kind enough to room with me again. In June Romy thought it would be great to add our friend Beth to the mix. Since I love Beth, and she is one of my dearest friends I was all in. Then Kim, who is a true joy, says she needs to crash somewhere for one night. We said sure come on over. 3 unbelievably fantastic women that I'm honored to call my friends. It was a true slumber party. Le Grande Courtage sent Romy their new Champagne mini bottles and that made our slumber party even better. — During the day before the slumber party, I wore my Rosetti Multi Section Mini Multi Pattern crossbody purse (the pattern on line is not what I have, see picture above) during the day.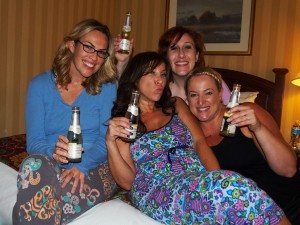 No. 3:  Wearing the Printed One Shoulder Dress with the I Love Comfort Rue Buckle Dress Shoe — #StyleSuite thrown by Andrea and Nicole of Mom Fashion File. They really knew how to get a bunch of fashionistas together. Andrea is another homey from…well…home. In fact I'd seen her the week before. It is my firm belief that despite being in a totally different hotel we felt her there with us. So we were lucky to get to hang out a little bit just being girly at the #stylesuite partay (keep reading) P.S. there's a CAbi story coming soon. I won't spoil it, just stay tuned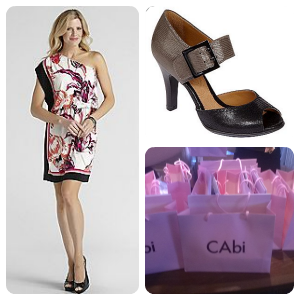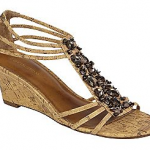 No. 4:  Wearing the Kardashian Kollection Leaf Shoulder Shirt (see shirt in below picture, not on line) with the Covington Sandal Delilah in Cork — Avon partay hosted by Avon featuring their ambassador [and my roomy] Romy. GENIUS!!! At this point I get to tell you that I'm toast. THIS IS A ROOM FILLED WITH MAKE UP, MAKE UP SPECIALISTS AND HOT MALE WAITERS. I loved the party, I loved the make up, but what I loved the absolute most was going ape shizz with my friend Amy over all of the awesomeness before us. It's the equivalent of being 5 and getting into all of your mom's make up and favorite clothes and jewelry. What do you play with first? P.S. there's a Avon story coming soon. This time seriously you don't want to miss this.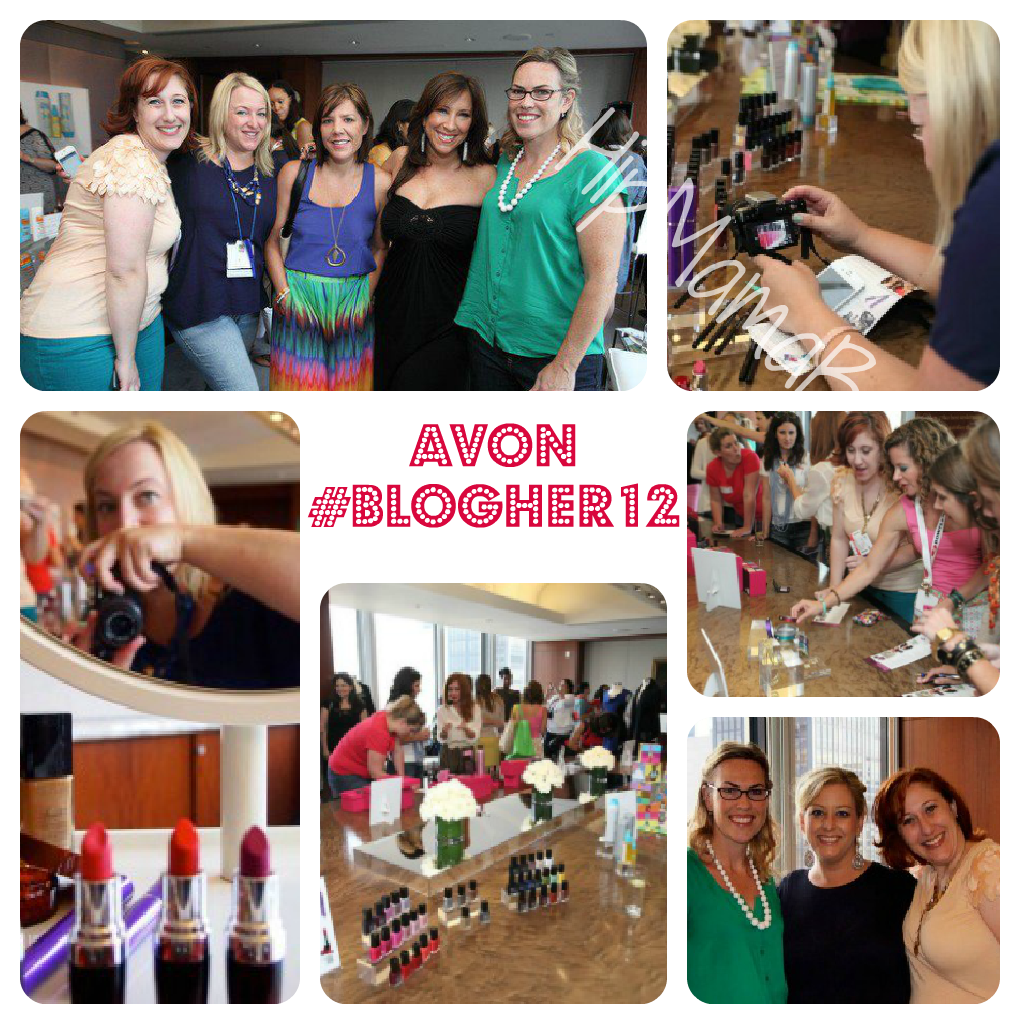 No. 4.1: I saw these amazing eyeliners that had the word "chrome" on the label. I showed them to Amy. She took one look and said that she doesn't wear purple eye make up. I was insulted on behalf of all of the purple eye make up. I couldn't believe my ears, and I told her as much. I carried on playing with and talking about make up. On the flip side Amy waited and waited and waited and waited….to get her make up done. Meanwhile I was getting the details on EVERYTHING. After taking the Avon tour by Candice for 10 minutes Amy was up-to-speed and as awe struck as I was. I'll give you a hint: I have NEVER seen anything like it in the beauty world, but the simpleness of it has me wondering why this hasn't been done before. A-MAZE-BALLS. I'll continue this in the aforementioned post.
No. 5: Listen To Your Mother with Kim. I'm going to try to just focus on the highlights. Kim wanted to read, and I thought she shouldn't be there alone. She had finally decided to read something that was quite emotional. I said I'd go with her to cheer her on. 2 hours later after hearing some great stuff, and some not so great stuff it was over and Kim's name was never pulled out. She tried so hard to put on a brave face but this was a big deal because it helped close a door. I'm hosting a virtual Listen To Your Kim, all you have to do is read the post she was going to read. Being there for Kim was such a profound moment for me.
No. 6: Wearing an outfit with the Rosetti cross body purse in yellow (like the Triple Play) — Naughty Monkey. Romy said shoes, and I answered yes. By her saying shoes I got to go to the Naughty Monkey showroom, and saw some insane incredible shoes. AAAHHHHH heaven. Big Bonus: got to spend an uninterrupted 5 mins with my sister from another mother Julie.
No. 7: Wearing red maxi dress (not on-line, see below pictures) — Times Square with my girls. It was an accident, but a fun one. We were walking away from the Lands End party after seeing Andrea and I met 2 of the Sh*tty Mom ladies. At this point we're hungry. So Romy suggests John's Pizza. We crossed Times Square, and took every cheesy touresty picture you can think of.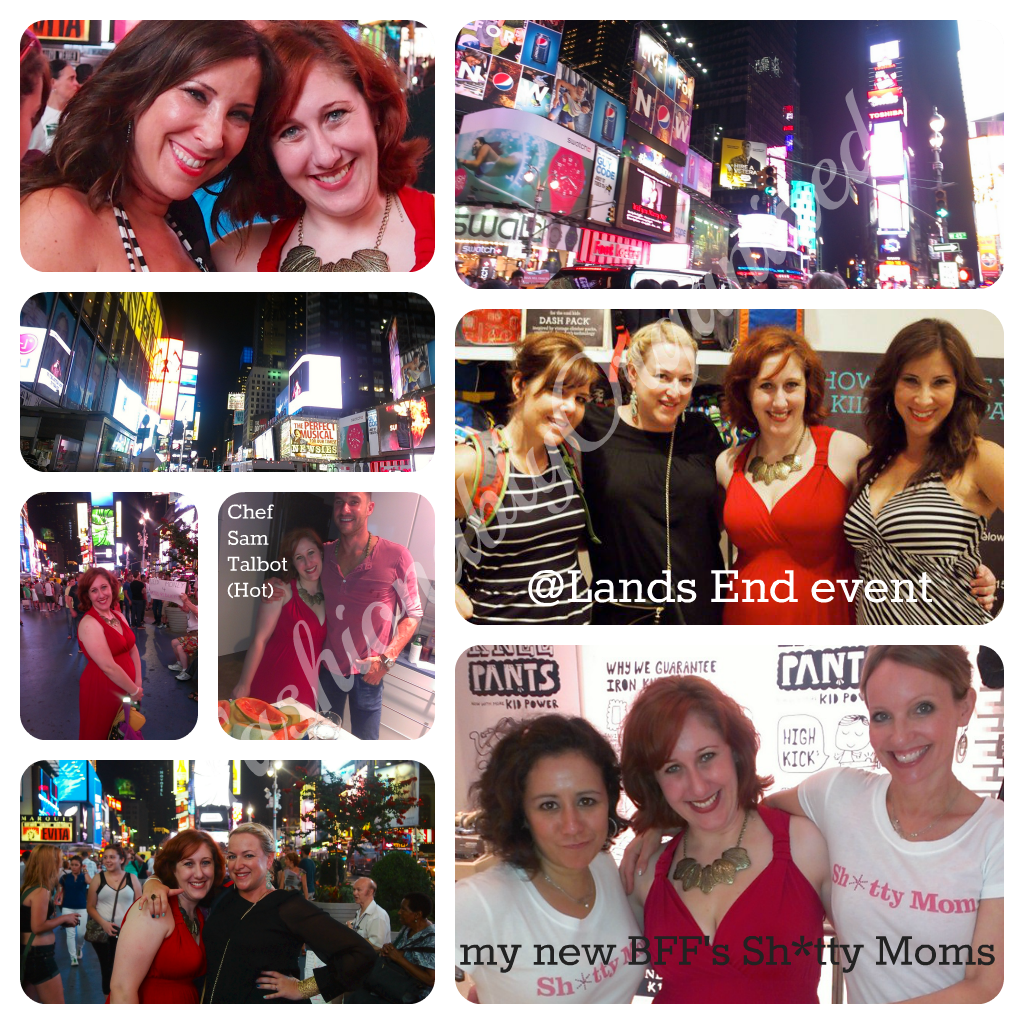 No. 8: I'm going to preface this with this is one of the bucket list items. I met designers Badgely Mischka, who are without a doubt my all time favorite designers. When I was much younger I swore I was going to wear a Badgely Mischka wedding dress. I talked to my penultimate fashion designers. It was pure heaven. They were so kind and wonderful I was so very impressed with them.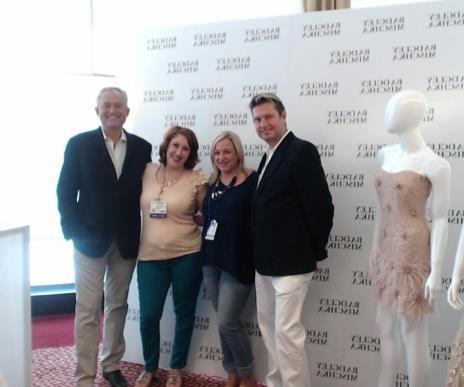 The Not-So-Good
No. 1: Yelling at Beth. It wasn't acceptable, and I felt quite stupid. I can't stop thinking about how bad I was. I can't let it go…
No. 2: Way too many people. 5,000 in the Hilton NY was never going to work.
No. 3: Same party different year. We need something new. How about a Prom? It would be so much fun to go black tie. ANYTHING!
No. 4: The awful weather and the lack of air conditioning only making this worse.
No. 5: LACK OF PROFESSIONALISM! I have never in my whole life been surrounded by so many people who arrive at a conference demanding respect because they're professional, while acting totally unprofessionally. Many of them making me look bad. When you have that many acting as if they're 15, you get lumped in.
No.6: BlogHer is not meant for Lifestyle, Fashion and Beauty bloggers. The scene in the actual conference wasn't geared toward my brand. I went through the entire Expo in less than 2 hours on Sat. The sponsors were packing up to leave 2 hours early. Not a very promising thing to see.
 No. 7: Not going out with Beth to Karaoke on Sat night. Words out it rocked!
Will I go next year you ask? There needs to be A LOT of my ducks in a row. If you're interested in sponsoring me for next year contact me.
I was given a $200 gift card from Sears to make my purchases. The opinion above is my own swayed only by my inner Fashionista.
*******************
Want some more Fashion Friday fun?
Check out this Fashion Friday Carnival
Comments
comments