I have been very open about my love for calendars and organizers. I like my digital calendars, but something about writing it in a calendar feels better, and great.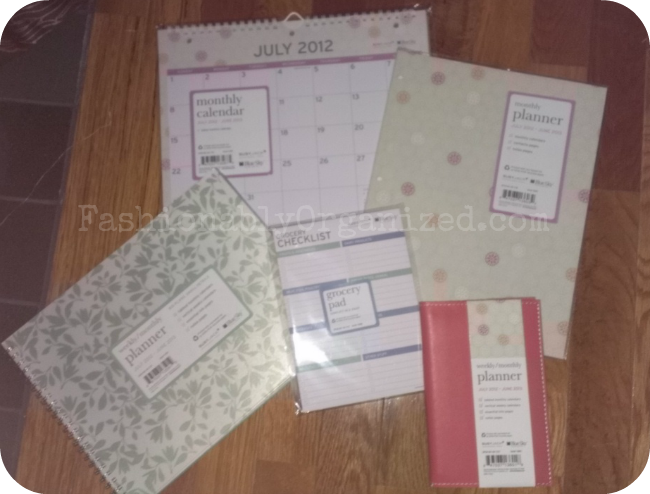 You can imagine how excited I was to see these great Blue Sky Planners and Calendars arrive at my house. There was a cornicopia of choices so I was overwhelmed and of course really excited. Every one of them was unique and could be used for different reasons. The new Susy Jack designer series comes in beautiful patterns and colors that are understated, and fit the pretty bill just perfectly.
The Susy Jack Green Vines Weekly/Monthly Calendar is a great desk calendar that is all encompassing. I've seen a lot of great calendars, but this oen in particular takes the orientation of the calendar makes it easier to actually input and have enough room to actually put a few things in for 1 day. They take the genius of this calendar one more step by including separate section for contacts, a monthly view with to do and to buy list areas.
The Susy Jack Monthly Stapled Calendar is the perfect student planner. My oldest son is 8 years old, and he took this calendar right off my hands, and insisted he needed it for 3rd grade. Despite my doubt that he needs a calendar who am I to deny him this calendar. I think for him it was the slimness of the calendar and the 3 hole punched binding is perfect for school.
The monthly Wall Calendar is a perfect lightweight calendar to keep track of what you [and your family] are up to at a glace. Admittedly I know my mother loves this calendar format, so I gave it to her, and she loved it. It's not a heavy which can happen in the wall format. She called me as soon as she got home to thank me for her new calendar.
On top of selling great calendars the Susy Jack designer series also has a great pads like the Grocery Checklist, that is magnetic. It's a great size and perfect for making that shopping list quickly.
Blue Sky is giving one Fashionably Organized reader the Green Vines Weekly/Monthly Planner (MSRP $15).  
This giveaway is now closed a winner has been contacted.  MANDATORY ENTRY: go to the Blue Sky website and tell me in the comments what is your favorite item in their store. 1 winner will be chosen at random. 
If you would like to put in additional entries you may do 1 or all below (please leave a comment for each of the following):
– Follow Fashionably Organized on Twitter
– Tweet this giveaway (max 2x's a day) or use the retweet button below:
I entered @FashOrganized #giveaway to win a gorgeous Susy Jack Green Vines Weekly/Monthly Planner. You can to by going here: bit.ly/ToBVg9
All comments must be posted by September 7, 2012, 8 PM PST. The winner will have 48 hours to confirm after receiving the e-mail from Fashionably Organized. This giveaway complies with FTC guidelines, and FB promotions rules. Please see OFFICIAL RULES, for this giveaway. For the purposes of this giveaway the "Sponsor" is Blue Sky.
I received several calendars to review. The opinion above is my own swayed only by my inner Fashionista.
Comments
comments