As we're fast approaching the fall season, and all of the fall clothing are out in the stores I started to wonder what people consider a fall staple in their wardrobe. Is it something you've owned for years, or do you buy a new one every year?
While I have what I believe to be fall staples I know that everyone has their own criteria of fall staples. I asked a few of my blogger friends what their fall staples are.
Most of the bloggers I asked stated boots as their fall staple. I have to say that every year I buy 1 new pair of boots, so the fact that this was a common item, doesn't surprise me.
Andrea of Lil Kid Things said, "My jcrew boots! I have a pair similar to these and they have lasted 6+years. They are the best AND they fit my calves which seem to be above average when it comes to boots that zip. LOVE them."
Jennifer of The Rebel Chick "I have these black suede boots from Steve Madden that I wear every winter.

They don't make them anymore but I bought two pairs in 2008 so that I'd have them for a long time. They go with jeans, with sweater dresses and they're incredibly comfortable! They are very similar to these [boots]."
Catherine of Evolving Mommy was another boot lover with her "riding boots that are a pretty cognac color and scarves are my go to fall favorites." This makes me want to go out and find me a pair of boots in a cognac color right now. What a great color.
However, I'm more like Dawn of Party Blue Prints because she said, "boot for sure – what ever is in style I always treat myself to a new pair for fall."
Jessica of Found The Marbles added a little to the idea of boots by saying, "boots and a great comfy sweater, usually in grey, charcoal or heather."
It's time to buy a jacket right? Several of them named jackets as their fall staple:
Rajean of Because I Said So reminded me that I need to pull my denim jacket out because her fall staple is: "denim jacket. I have an Eddie Bauer one and usually change every two-three years. I dress up or down with a cute scarf, maybe a pin on the lapel. Often it is the only jacket I wear in Colorado. I also like the colored denim for a change up. Like this one from Eddie Bauer."
Robin of Simple Green Organic Happy said it very simply: Black leather blazer.
My good friend Kadi of Kadi Prescott said, "A pea coat. So classy. Warm. Can be dressed up or down." She is so right, because I've had a pea coat in my closet for the last 10 years. It really is my favorite jacket look.
Fall also introduces lots of other clothing options:
Kelby of Type-A Parent is like me where she starts from the very basic with "black cardigan sweater." Yes, I can admit that I have 3 or 4 and buy a new one every year. So Kelby I'm with you on that one.
The ever chic Katja of Skimbaco brought back fond memories with her staple of "white cable knit sweater with polo neck, usually by Ralph Lauren.. but couldn't find anything like that on their site yet. I've had probably 10 of them, have been using them since early 90s…

"
My friend Julie of Julieverse couldn't settle on just one staple, "Fall jacket in a hot color for the season. And boots. And a denim skirt." I wasn't surprised because the truth is it's very hard to narrow on just one thing right?
Finally…
Andrea of Great Thoughts is a fellow bibliophile (go here for a definition), and a woman after my own heart because to put it simply she said her fall staple is, "my new Charles Jourdan leopard bag." Andrea you are so right a new bag is a definite fall staple.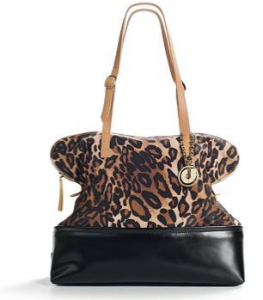 So… what's your fall staple?
Enter to win a Grace Adele clutch and makeup bag and today is the last day to enter to win a BlueSky organizer.
*******************
Want some more Fashion Friday fun?
Comments
comments