Last year for Halloween I got A the gorgeous Tulip Flower Fairy costume from Chasing Fireflies. The minute the costume showed up you could see how these costumes put all other costumes to shame. She still adores that costume and says "fairy costume" with a giddy giggle. It's so adorable as you can see in this picture taken last year.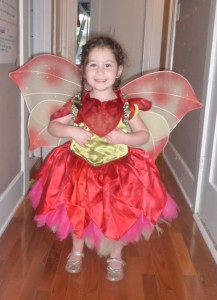 This year for Halloween I went right back to Chasing Fireflies on an endeavor to get another great costume for A. A and I went back and forth, if I wanted this, she would say "nah". Did I mention she's 3.5? My girl is opinionated about what she wears. I have no idea where she gets that from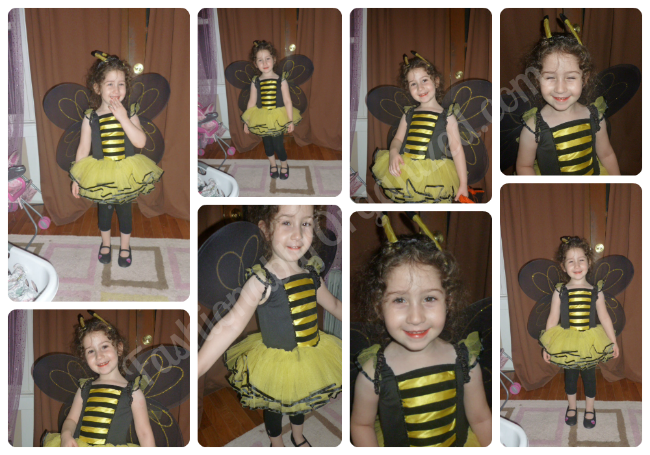 She loves the Transformers, that's what happens when you have 2 older brothers, and really wanted a Bumblebee (the Transformer) costume, but they didn't have her size. It made me think to get her a custume of the actual bug version of a Bumblebee. I showed her the costume, and that giddy giggle came out. No need to torture myself anymore! She loved it so I placed the order. When it arrived and I pulled it out she was so excited to try it on she started getting undressed right there in the kitchen.
I added the cute Bumblebee Wings to the order to give her the full effect. It doesn't show in the website, but to my delight the costume has yellow wings sewn on the back of the costume. This is great for when she wants to take off the bumblebee wings there are still wings on the costume.
I really wanted to get another Chasing Fireflies costume for her this year because not only they adorable, but they are for much more than just Halloween. All year A has worn her fairy costume for dress up, and other costume events. It has been far more than a Halloween costume. I know the bumblebee will be too. I mean the tutu alone is a dance recital (at home) waiting to happen right?
My mother has not stopped raving about how adorable and well made the fairy costume is, every time A puts it on. When I told her we were getting another Chasing Fireflies costume for Halloween this year she said she was so glad because they really do have the most beautiful costumes. You may not know my mother, but she doesn't say that about just anything. Chasing Fireflies has my mom's stamp of approval, and that's a good stamp to have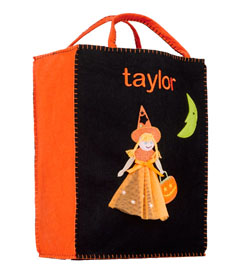 When the boys were super young I had black tote bags embroidered with a pumpkin and their names on it. They use them every year for trick or treating. A doesn't have one because she was born much later. I've been looking for something to be her trick or treat bag since her 1st Halloween, and had the idea this year to get her one from Chasing Fireflies. I had finally found what I'd been looking for in the Personalized Witch Treat Bag. It's absolutely adorable, and she loves it.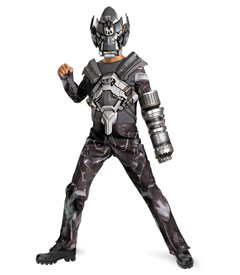 Not only did I get those fabulous Halloween treats for A, but I also came across the Transformers Iron Hide costume for E on sale. Yay! However he kept insisting he had been Iron Hide last year. I fought and fought with him, and ordered the costume. Make a long story short I was in fact wrong, as DH proved in pictures of the kids last year. Whoops! No matter he loves the costume anyway, and told me he's going to wear it, phew.
I'm not done yet. We're going to my cousin's wedding in October and I was having a bear of a time finding a non-flower girl special occasion dress that didn't look like an easter egg. A is not in the wedding so I just wanted a special ocassion dress is that so wrong? On a whim I went to look at the Chasing Fireflies collection of Special Occasion dresses. Of course in true Chasing Fireflies form I fell in love with the Silver Flowers Tulle Dress & Velvet Shrug, and to my delight it was on sale too. Before I ordered I checked with my mom to get her opinion, and of course yet another stamp of approval. The dress is more gorgeous in person. A has already picked out her sparkly shoes to go with it.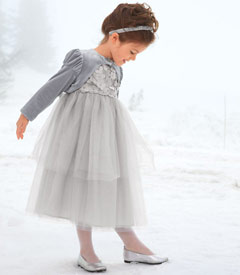 Chasing Fireflies has more than costumes that last longer than Halloween they have gorgeous clothing, shoes and accessories for children.  They have not only my mom's stamp of approval, they have mine too!
Don't forget to check out the Chasing Fireflies Facebook page.
This post was made possible by Mom Spark Media. I was given a $100 gift certificate to purchase a costume for review. (I purchased the dress.) The opinion above is my own swayed only by my inner Fashionista, and my daughter's too!
Comments
comments