This fall the color palettes are very deep rich colors. One color you will be seeing a lot of is burgundy. I have always loved the color, and can't wait to buy a few burgundy pieces. Until I do I thought I'd put some outfits together to see the many different ways to incorporate burgundy into your wardrobe. Given my budgetary restraints I made sure that every pieces is under $50 (except for 1 piece being $69).
The dress: This gorgeous dress has a Mad Men feel to it. Adding the snakeskin clutch modernizes the outfit.
The pants: I love brocade, and I love these pants because they are not only brocade, but they're burgundy brocade. Therich color with a gorgeous pattern/fabric is really chic. These can be worn so many ways and places.
The Top: I've decided that this year's boot purchase will be a cognac color. Let's hope at least. Cognac, or any brown for that matter, are the perfect compliment to burgundy. This chiffon top with skinny jeans has a lady-like feeling to the outfit.
As you can see burgundy is a great color because it can go with so much, in many respects it can be treated as a neutral. Are you going to sport burgundy this fall?

*******************
Want some more Fashion Friday fun?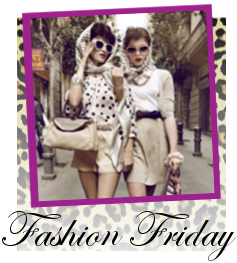 Comments
comments