The minute I heard the concept of Familiar's picture sharing program/apps one word came to mind: brilliant. The fact that I can invite my parents to see my pictures of the kids as soon as I take them without sending it in a way they have to figure out how to see it or download it is a great idea.
What is Familiar? In a nutshell…Send photos directly to the screens of your family.  Photos are delivered privately to their desktop, screensaver, tablet, and smartphone photo wallet.
this cute video tells you exactly how it works:
Get Familiar v2
from
Familiar App
on
Vimeo
.
Top 7 reasons why Familiar is a must for everyone to have:
Simple To Use:

Less tech savvy loved ones don't need to be on Facebook or Flickr, or check email to see your photos

Effortless Photo Viewing:

Family and friends see photos with almost no effort.  Photos show up instantly on their screen

See Photos Easily, Anywhere:

smartphone, tablet, Windows PC, or Mac

Timesaving:

Eliminates the hassle of attaching files, reduced photo quality, and the pain of sending photos by email or having them stuck on the web.

Compatible with Top Photo Sharing Sites:

Familiar works with popular photos sharing services: Facebook, Picasa, Flickr, and SmugMug

Private Sharing:

share the most precious moments without reservation

Track Favorite Photos:

Track the photos you love and have them available on all of your devices
I went to BLPConnect on Sunday (I also appeared in a panel and underwent a makeover). During lunch I sat at the table with 2 of the co-founders of Familiar, Josh and Marcus. They told me about their new brain child, and I really thought it was an incredible idea, that I need in my life so badly. As soon as they described Familiar to me I may have burst out the word genius before I could catch myself.
Well just today it happened that I needed to send a picture to my husband right away. We took our middle child and walked down the street. They were walking ahead of me and I saw the cutest thing. R had his around E when they were standing at the street corner. I quickly grabbed my phone and took a shot. R turned around and saw me smiling, so he asked what was so funny. I told him to wait a minute and sent the picture via Familiar. Within 2 seconds he knew what I was smiling about without having to open anything. It was like an instant conversation in pictures.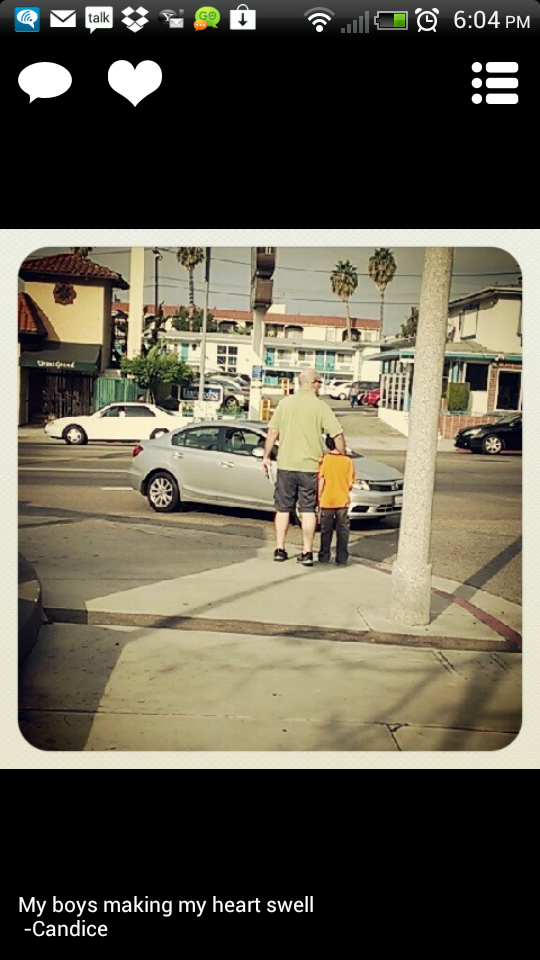 I can't wait to share this program/app with my father who always calls me to help him download pictures I sent him. Then he can't find them on his computer once he has downloaded them, which is another phone call that I have to have with him. I already invited him to join my group so I don't have to worry about those phone calls.
Now that you know about this great program/app it's time to go over and sign up for your own account (it's free). Don't worry about privacy either because the only people who will see what you share via Familiar are the people in your group. It's that easy.
Get yourself over to the Familiar Facebook Page and Like them to stay up-to-date on everything new with Familiar.
This post is part of a HerReview campaign, and compensation was received. The opinion above is my own swayed only by my inner Fashionista [and closet tech geek].
Comments
comments