Believe it or not there is now a gorgeous purse that holds your electronics, and it is called Kaboo. Finding a fashionable bag that can hold my iPad2 safely and other items is not always easy to do. Little did I know that this bag would hold a lot more than my iPad2
Earlier this year I was shopping for a
tote to hold my iPad2 and other items
to take to work. I wound up with a great bag, but then I got my Mac soon after and holding "everything" was not happening. Until Sunday I was still stumped. I found a great bag the Kaboo
Riley – Black
.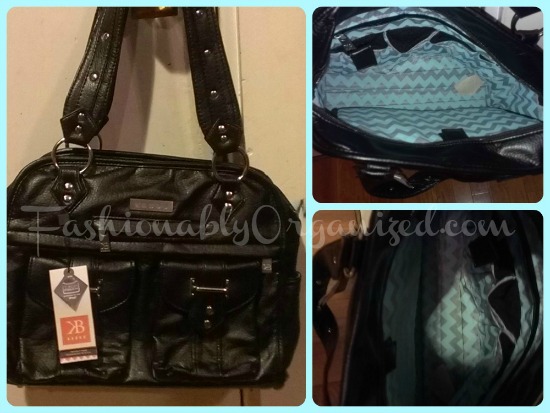 Kaboo explains exactly what makes their bags so great, and I wholeheartedly agree:
Emerging technology trends are a major reason why Kaboo ™ has introduced a new line of stylish, device-friendly purses and handbags for today's busy women and moms. Kaboo™ handbags provide convenient storage for all mobile devices, from iPad to Smartphone to eReader. Each purse features a shock-absorbent 'Tech Pouch™' that help devices resist regular wear and tear and damage.
As you are aware I'm obsessed with organization so knowing the Riley has 17 pockets had me with immediate drool down my chin. Any bag that has that many pockets is a must for me. Little did I know how much I would fall in love with this bag. INSTANTLY!
I got home and had to pack it up. I got all of the following in there:
Macbook Pro in a laptop protector
iPad2
Panasonic Lumix point & shoot camera in a padded case
1 Container Store Sweet Pea letter size file folder
1 Mudpuppy pocket folder
Grandluxe Violet Mosaic Leatherette Journal
pen pouch
page markers (tiny post-it type things)
little pouch with: retractable phone charger cord, Macbook charger prong and iPad2 card scanner
earphones in their own pouch
Sephora blotting paper
Sephora Pop-up hair brush
Flip 'n Tumble reusable bag
Grandluxe Dare To Be Different Journal (where I put all of the business cards I receive with notes)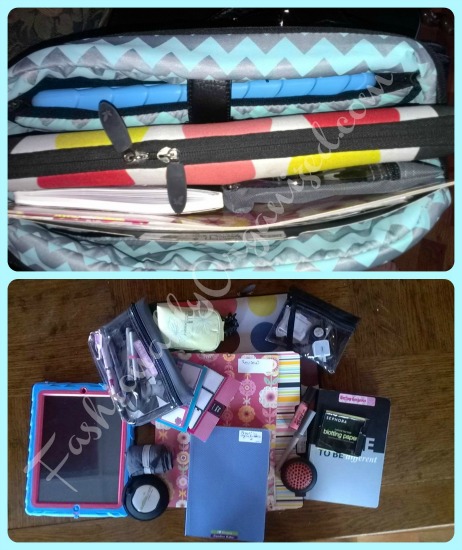 That's a whole lot of stuff, and although it may looked crammed there are so many pockets everything has it's own place, which makes everything super easy to find. The great thing is that the wall of pockets inside the bag are all lined with fleece so if you put other electronic devices they would be well protected. You could also safely use those pockets for a pair of glasses or sunglasses because it would keep them from scratching.
I pack up this bag to move from room to room in my house, and I cannot believe how compact and light it is even with all of the above items inside of it.
I'm in bag love. Now you have to check out some of the other bags because there isn't one that isn't gorgeous. Don't forget to go to the Kaboo Bags Facebook Page for more great Kaboo info.
I want to thank the ladies from Kaboo at BLP Connect who gave me this fantastic bag. The above opinion is my own swayed only by my inner Fashionista.
Comments
comments