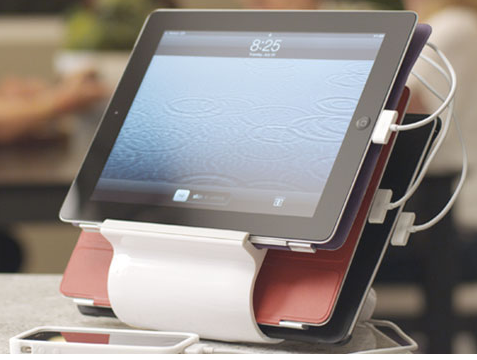 If you're like me you own a multiple array of technology products. You probably charge them all over the house, and have to run around gathering them all to bring them with you. So if you have an iPad, Tablet, Kindle, Nook, iPod or Smart Phone Kanex Sydnee ($149) has a one stop charging station that can charge up to 4 electronic devices in one place. Check out how it works.
1 Cord, 4 Ports, 2.1A Each
With Sydnee at your desk, you can recharge up to 4 iPads or iOS devices simultaneously. Each individual USB port pumps out 2.1 Amps of power for quick charging.
Recharge with Confidence
As a central charging system, recharge all your iOS devices with confidence. Sydnee's Auto detect smart charge allows for optimum supply of power needed adequately to charge the iOS devices.
Smart Mess, Smart Charge
With no tangle and no mess – your cable clutter is simplified without compromise through Sydnee's intelligent design. With the cable management provided all cables stay neatly concealed, comfortably holding up to three iPad's and an iPhone.
Revolutionary Design
Sydnee's sleek, modern style adds interest to any room. Whether placed in the living room for entertainment or in the bedroom for privacy, Sydnee's aesthetics and eye catching design says it all.
Your Space, Defined
Built with simplicity in mind, Sydnee can be employed anywhere. From schools, hospitality markets and retail stores to corporate offices, conference rooms and health care facilities, just plug it to the wall and start charging your iPads – seamlessly.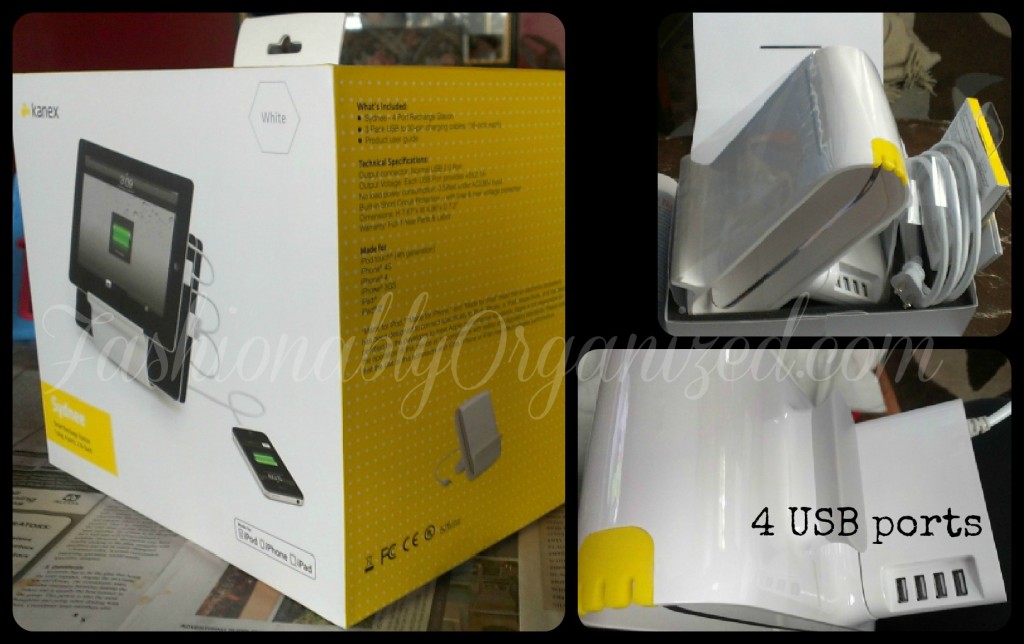 I put my iPad2, Nook Color and DH's iPod in the 2 partitions of the Sydnee. Because DH's iPod was not very large I was able to put it in the slot with the Nook. I also plugged my HTC One S into the 4th USB port and put it in the front stand. It all fit perfectly and my iPod fit with the Gumdrop case still on it.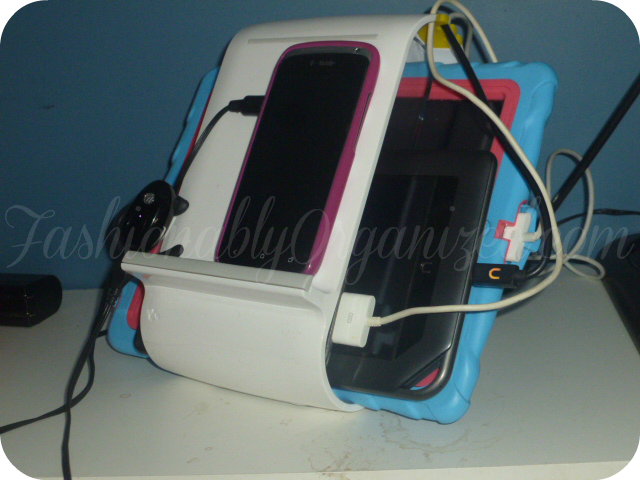 I am really impressed with my new Kanex Sydnee, and the fact that the size allows for my iPad2 to be placed in there without having to take the cover off. It also speaks to my organized side. I love that it's compact, and I don't have to plug-in my stuff in different places.
Kanex is giving one Fashionably Organized reader a Sydnee (MSRP $149). MANDATORY ENTRY: Tell me what items you would use this charger.
It's not mandatory but check out Kanex Products Facebook page to read all the latest on Kanex innovative technology.
If you would like to put in additional entries you may do 1 or all below (please leave a comment for each of the following):
– Follow me on Twitter @FashOrganized
– Follow Taryn on Twitter @Kanexlive
– Tweet this giveaway (max 2x's a day) or use the retweet button below:
I entered @FashOrganized #giveaway to win an awesome @Kanexlive Sydnee that charges 3 iPads or other devices at once (MSRP $149) bit.ly/GiveawaySydnee
All comments must be posted by November 8, 2012, 8 PM PST. The winner will have 48 hours to confirm after receiving the e-mail from Fashionably Organized. This giveaway complies with FTC guidelines, and FB promotions rules. Please see OFFICIAL RULES, for this giveaway. For the purposes of this giveaway the sponsor is "Kanex".
Comments
comments