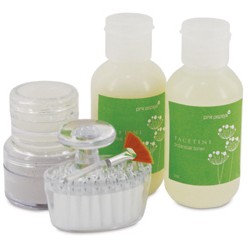 I'm not an easy sell when it comes to skincare, and when I tried the Pink Papaya skincare I fell in love upon opening the package. I tried the Normal to Dry Facetini, and it really was a cocktail for my face.
In retrospect I probably should have gone more with the combination skin, but considering my oily acne prone skin the Normal to Dry was amazing. This botanical ingredients are wonderful for my skin, and the fact that everything is Paraben Free only makes me like that much more.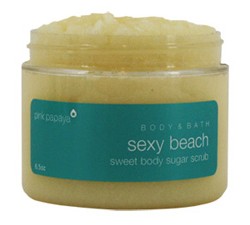 I also tried the Sweet Body Sugar Scrub Sexy Beach, and shhhhh so did my husband. We loved it! After putting it on we used a loofa scrubber, our skin was never so shiny. The smell was great.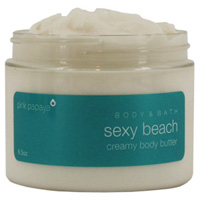 In addition to the Sugar Scrub I also have the Creamy Body Butter Sexy Beach. I have sensitive skin, and am always so worried about putting body creams on my legs. It's a hold my breath moment. It smelled great left, my skin without a stinging red blotchy flare up. I was so happy.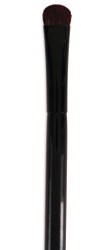 OK all of that is well and good, but what made me fall in love? The fact that my sons love the Body Butter. They both have dry hands with majorly dry cuticles. They're always skeptical of all creams, and therefore getting them to put some on their hands is always really difficult. on a whim I asked E (6) to try the body butter on his hands. Now I know it's not hand cream, but I thought I'd try. When I opened that jar of Body Butter he instantly perked up because it smelled so yummy. He like it so much he ran and got his older brother (8) to try it too. I know that it sound silly but that said a lot to me about the products, and their versatility.
I looked through their brand new catalog and discovered they have a whole line of makeup. I've been needing some new eye makeup brushes, and am thinking of ordering some of theirs.
Want to try the wonderful Pink Papaya Facetini? Well the fabulous Edie McRae, independent Pink Papaya consultant, is giving 5 Fashionably Organized readers a Facetini. 
Mandatory Entry: Tell me what your nighttime skincare routine consists of. Do you wash your face? Do you put anti-aging cream on?
It's not mandatory but check out Pink Papaya's Facebook page to read all the latest on Pink Papaya.
If you would like to put in additional entries you may do 1 or all below (please leave a comment for each of the following):
– Follow me on Twitter @FashOrganized
– Tweet this giveaway (max 2x's a day) or use the retweet button below:
I entered the @FashOrganized #giveaway to win 1 of 5 Pink Papaya Facetini (MSRP $32) http://bit.ly/SxWY0m
All comments must be posted by November 12, 2012, 8 PM PST. The winner will have 48 hours to confirm after receiving the e-mail from Fashionably Organized. This giveaway complies with FTC guidelines, and FB promotions rules. Please see OFFICIAL RULES, for this giveaway. For the purposes of this giveaway the sponsor is "Edie McRae".
This review was made possible by Mom Spark Media. I was sent these products for review. The above opinion is my own swayed only by my inner Fashionista.
***********

Comments
comments