In our rushed world, we rarely have an opportunity to show our appreciation for those who spend 6 hours a day with our children. Those who give of their time and brilliant minds to help our own children to stay safe, comfortable, loved and to help them grow.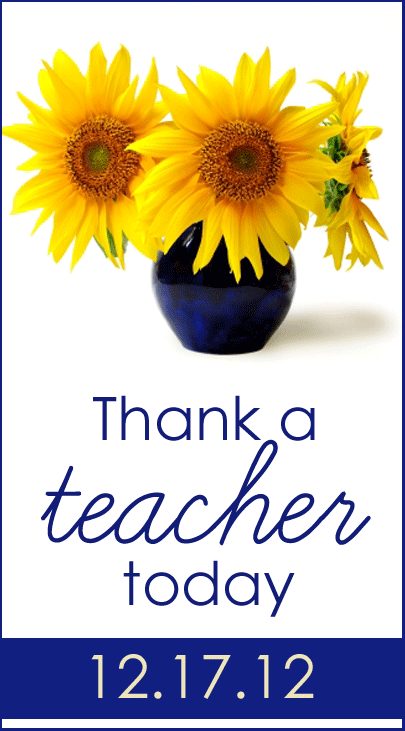 On Monday, December 17, 2012, take a moment and thank a teacher. Send her an email, a card, a bouquet of flowers. Create a "thank you" bulletin board. Offer to help from home. Make time to volunteer in the classroom.
Take a few minutes in your day and connect with your favorite teacher, or your child's teacher. It's simple; just tell him or her "thank you."
If you work in media, we ask that you join hundreds of bloggers throughout the US in recognizing Thank a Teacher Day 2012, created in loving memory of those who lost their lives in Newtown, CT, and in honor of the hundreds of thousands of teachers who would do that tomorrow for your child. Join us in posting this image on your website, sharing with your readers and viewers. Please, help us to reach other parents and grandparents to thank those who love your children nearly as much as you do.
On twitter, we'll be tweeting our thanks using the hashtag #ThankATeacher. Follow along and learn how others are thanking.
***Please note this post was originally posted by my dear friend Julie at Julieverse, and are her words. I merely feel her words were so perfect I couldn't make mine any better. Thank you Julie for sharing this day with us!
Comments
comments