We're about to embark on teaching our kids the art of financial strategy, and I can thank Virtual Piggy for helping me hammer this home for my kids. As an on-line allowance, wish list and Virtual Piggy bank my children are heading into 2013 learning to manage their finances.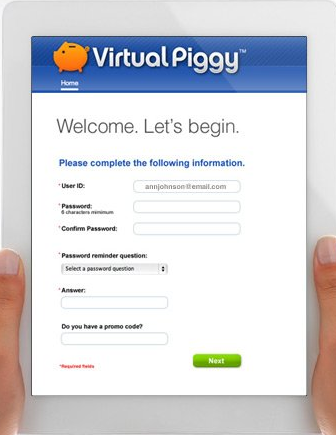 I finally finished creating our chore/behavior chart system that will revolve around credits. For every 20 credits the kids earn they get $5 added to their Virtual Piggy account. I say account because although I set up the parental side each of the kids will be given their own log-in and password, because it allows me to set all of the parameters in spending and earning for my kids.

We can set Virtual Piggy to only allow our kids the ability to spend a certain amount a month, or to alert us for permission to finalize purchases. We can also set up the stores they're allowed to buy through the system. With 80 merchants, and them adding more all of the time they have plenty of things for the kids to choose from. Plus you can add the Piggy Pin to your browser, and you kids can add things from all over the web to their Virtual Piggy wishlist.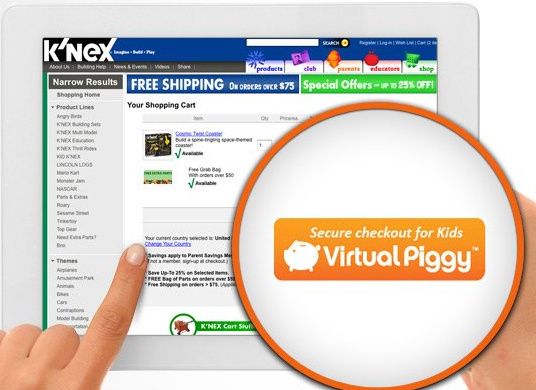 Virtual Piggy has a wonderful secure checkout system that uses a card I set up in there, and my kids never have access to my card. With the limitations I set up the card is charged, and I'm alerted of any purchases made. I'm not worried that my kids would buy without me knowing, but it's good to know that my credit card will be protected with the utmost care. However, given the fact that my kids are on my iPad a lot, and have almost bought some apps without realizing they were spending real money I'm happy to see a system that makes sure there are no accidental purchases.
What I love most about Virtual Piggy isn't that I can set the parameters for their spending the money they'll earn, but that they learn how to spend money. What I mean is that with the limits already set into the system they'll have the autonomy to decide if spending the $20 they earned now is worth it, or save it to be able to buy the $40 item they really want.
We've been discussing with them the power of saving for a bigger thing, and Virtual Piggy allows them to see it for themselves without our hammering it in. We're going to allow them to learn whether it's better to spend or save all on their own. OK well not really on their own since we will be setting up the parameters, but they don't have to know we're holding their hands along the way of their lesson.
You can learn more about Virtual Piggy on their Facebook page and follow them on Twitter too.
Disclosure: This is a sponsored post from Splash Creative Media on behalf of Virtual Piggy. The opinion above is my own, swayed only by my inner Fashionista.
Comments
comments