Last night I watched the Golden Globes as I always do, to see what they're wearing. Let's be honest my liklihood of going to a Golden Globes is 1,000,0000 to 1. I would love to believe that I could someday wear a dress like that to an event that garners such fabulousness, but it won't happen. Since I won't I thought I'd share what I thought were the best & worst dresses at last night's 70th Golden Globes.
The best…
You know I think Salma Hayek understand the greatness of a navy blue dress. She looks absolutely stunning in her Gucci.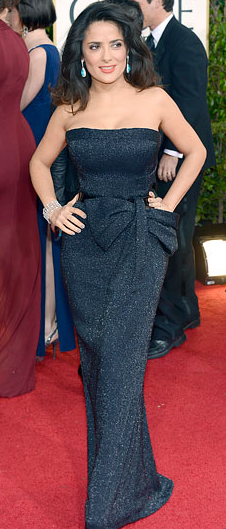 Of course, then Rachel Weisz takes the little black dress flips it on its head, and still does a magnificent job at looking timeless, and chic in her Louis Vuitton. Dang woman you know how to rock it.

Anne Hathaway has taste I'm not always on board with, but tonight she took classy chic to a new level in her Chanel. Not only did she win an award, but she won understated beauty too.

Julie Bowen, redeemed herself from her awful Emmy Award neon green number with her gorgeous one should dolman sleeve dress in a dreamy teal nonetheless.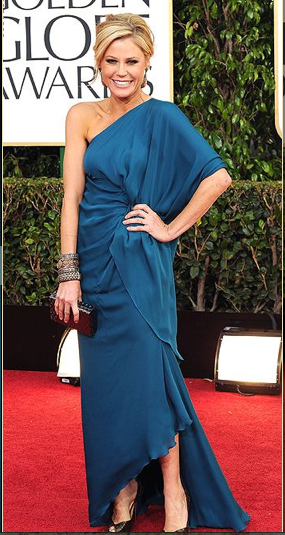 Hooray to Lucy Liu who wore a floral Carolina Herrera gown, that rocked it! I'm not usually a print gown lady, but I'll tell you this one just did it for me. It was perfect for her.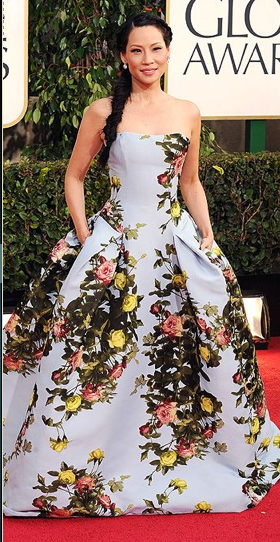 Another Modern Family standout is the always sexy Sofia Vergara. She donned this gorgeous Michael Cinco dress like nobody's business.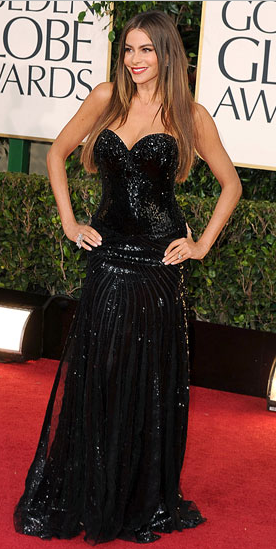 I don't know much of Marion Cotillard's work, but I loved her orange Christian Dior dress. She lost a few points for the too matchy-matchy shoes, but nonetheless it was a stunning gown.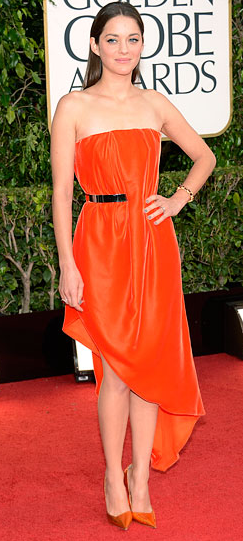 Sarah Paulson's Reem Acra dress would have been perfect if it wasn't for her hair. I just think her pulled back hair was way too severe, and it detracted from what could've been my favorite for the night.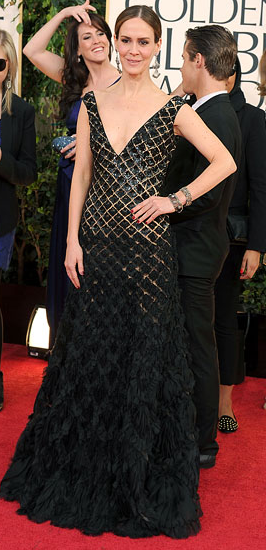 I'm happy to say that red was evident tonight. There were so many red dresses too. It's no secret that it's my favorite color, and if I went I'd be wearing a red dress no doubt about it. Zooey Daschanel's Oscar de la Renta was divine, and ladylike all in one.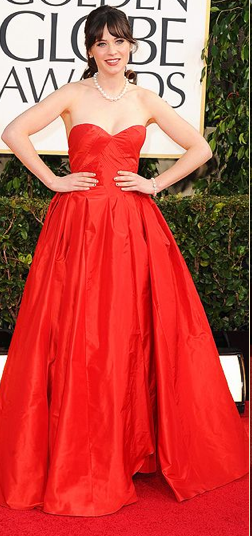 But my favorite dress of the night goes to without a doubt Jennifer Garner in Vivienne Westwood Couture. Simply stunning!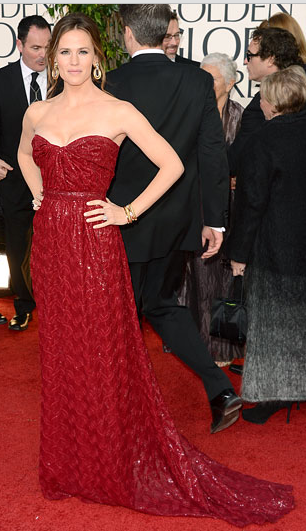 I can't decide…
I really like the classic feel of Nicole Richie's Naeem Khan, but it just isn't right, and I can't figure out why. Is it because she looks too fake bake for it? Is the color not for her? I definitely think whoever did her make up though did a huge disservice to this dress by putting on that blue eye shadow. It only made the dress look less right.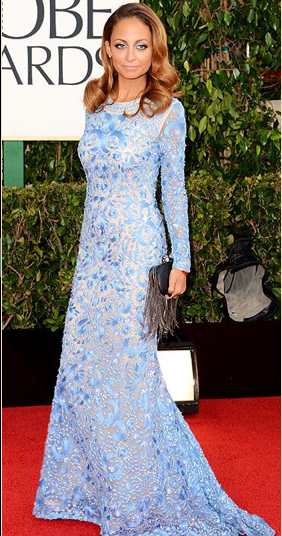 I don't think so…
More than anything else I do wonder where the nude color trend started. It's a beautiful stunning color on THE RIGHT PERSON! There were way too many nude dresses, on people who wound up looking completely washed out. The worst of them being Amy Adams in Marchesa. Nothing about this dress flatters her, luckily her hair looks magnificent.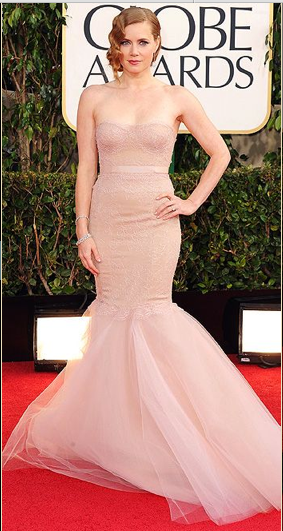 I am a huge Kate Hudson fan, but thumbs down on her choice last night. The dress was so flattering to her figure, but the opening was just too much!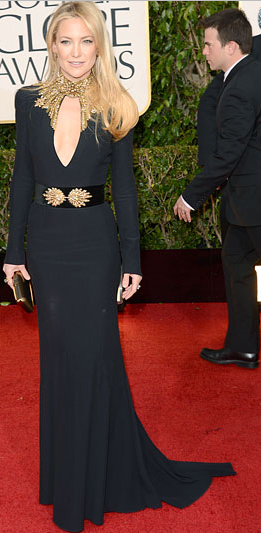 Mayim Bialik succeeded in the Bar Mitzvah dress award. She & I are the exact same age, but yet she managed to wear the one dress that made her look 3 times our age. You know like the little old lady at the Bar Mitzvah.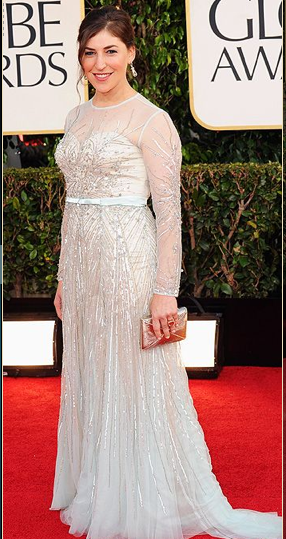 Sometimes I think Halle Berry can do no wrong, but this time I think she did all wrong. I feel like she's wearing a bathing suit cover up with her Atelier Versace.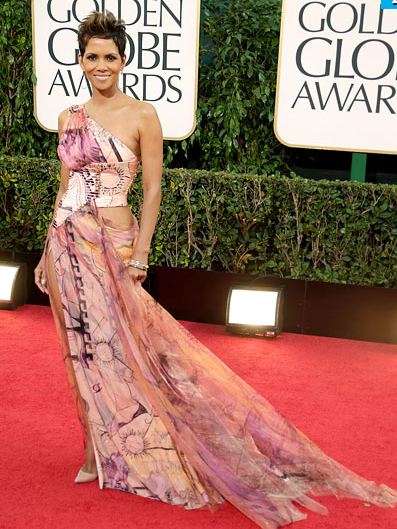 I know, I know, Kristen Bell is pregnant, and she did a great job hiding it, but the dress was too Victorian Era for me to like it. I wanted to love the Jenny Packham gown, but it looked too tight around her neck. The thing is that other than the severity of the top part, I loved how Kristen Bell looked.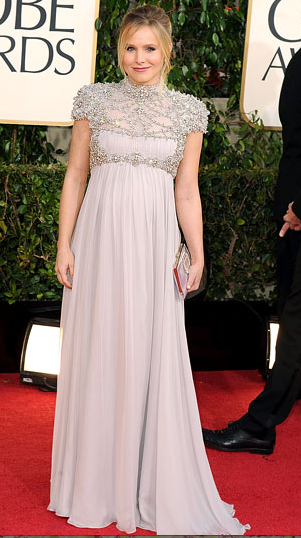 Did you watch the Golden Globes? Which dresses were your hits and misses?
Comments
comments