NYDJ is renowned for The Original Slimming Fit, featuring the most comfortable and figure-flattering jeans
you'll ever own. For the 2nd year in a row I was invited to NYDJ Spring/Summer preview and I was so happy to do it. I love my NYDJ jeans from last year so much I wanted to be sure to check out what they had in store for me this year. They didn't disappoint.
NYDJ Spring 2013 brings with it:
Colored denim continues to be a big trend for Spring 2013, both in pastel and bright hues.
Spring palette features a wide array of colors from muted neutrals to and pastels, with a few pops of bright, vibrant hues.
Printed – They've expanded their printed collection by adding additional skinny silhouettes such as the Alina Legging, Angelina Legging and Alisha Fitted Ankle, in addition to their popular Sheri Skinny.
Treatments – They've taken denim to a whole other level this season by giving them special treatments such as a True Ombre effect and Pearlescent Glaze.
I got to try on the Ikat jeans, zipper bottom jeans and boyfriend jeans. They were all so great and comfortable.
One new thing this year for NYDJ is that they started a line of tops. I have to tell you I was in love with the entire collection. It's a tight assortment of tops with easy-to-wear silhouettes that are figure-flattering for all body types and pair beautifully with denim. Available in a wide range of colors and seasonal, lightweight fabrics.
Here's my new NYDJ outfit:
boyfriend jeans and the Georgette top in Cayenne
NYDJ is available through NYDJ.com and better department stores and boutiques worldwide, including Nordstrom, Bloomingdale's and Macy's in the US. Trust me when I tell you to get yourself a pair you won't be sorry!
I was sent my jeans and tops to try out for this season (yes I get to keep them too). The opinion above is my own swayed only by my inner Fashionista.
****
It's Fashion Friday all around the web…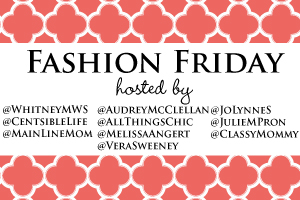 Comments
comments