Disney Paint is a new line of paints available only at Walmart that captures the magic and inspiration of Disney with 112 exclusive colors and five innovative specialty finishes. Disney Paint is a premium quality, ultra-durable paint that was formulated with your child in mind to withstand wear and tear, as well as repeated scrubs and washes.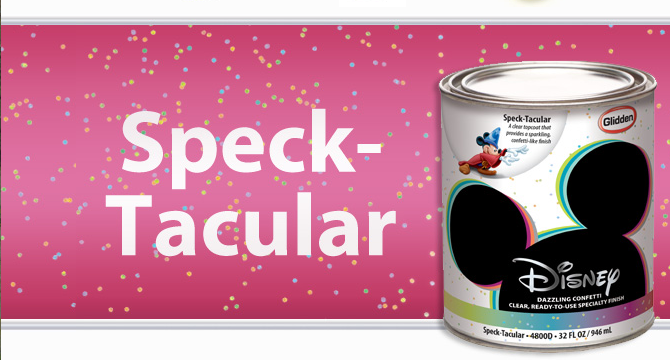 I decided to do a little sprucing up in my 4 year old daughter's room. However I didn't want to repaint her room. I wanted to make a new feature on the wall her bed is against. So my wheels [in my head] started turning. With the theme of a Minnie Mouse and the  Speck-Tacular paint an idea formed quickly. I won't tell you what I decided because this post is just the beginning in a series of posts about my daughter, A's, bedroom sprucing.
So I gathered the kids and husband and we set off to Walmart to pick up the paints I wanted. As soon as I saw the display I was so excited because the color options were so obviously made for children. My daughter took one look at the characters at the display and was sold. I had her decide on which shade of pink we'd use, and she actually chose my favorite.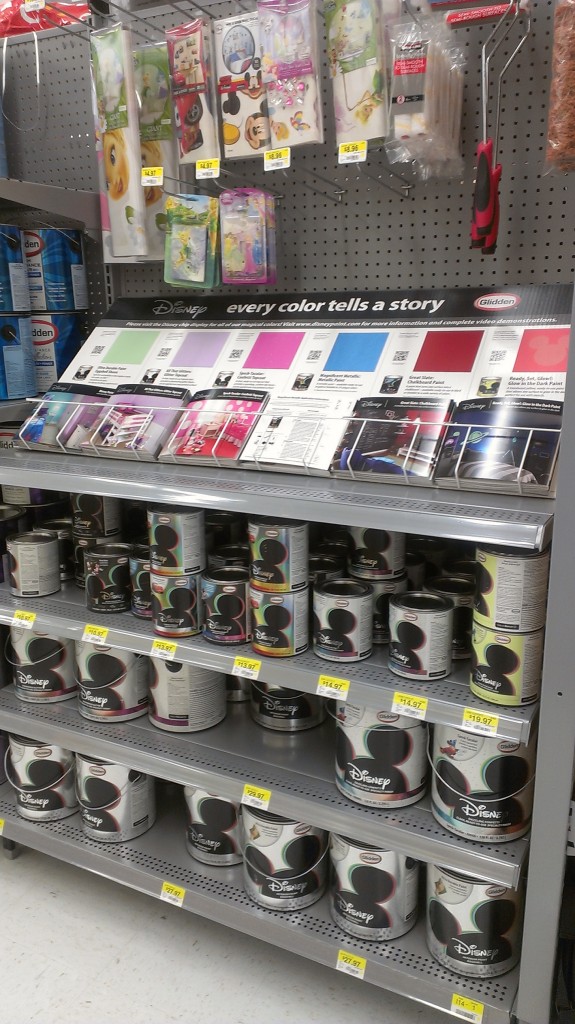 Then we headed over to the aisle next to the paint display where the paints were, and got what we needed from the well stocked shelves. What do you think? Are you ready to get your Disney paint and start your next project?
I'm loving what the Disney paints offer in their formulations:
Scuffs, crayon and pencil marks, little finger prints, and tough stains, such as grape juice, wash off easily without removing the magical color.
Disney Paint is low odor and has no VOCs.
Disney Paint has a distinct collection of colors grouped into palettes designed to give your children options at every stage of style.
The diverse palettes make decorating with your child–no matter the age–easy and fun.
Stay tuned for more on this special project in my daughter's room…Hint hint: I got ambitious and it's more than just the wall.
Disclaimer: Compensation and products for review were provided by Glidden via MomTrends.  The opinions expressed herein are those of the author and are not indicative of the opinions of Glidden.
Comments
comments