I've been reading over and over and over again about using Moroccan Oil in your hair is supposed to be so super luxurious. So I decided I'd give it a try. I turned to my budget-friendly awesome Suave Professionals hair products and bought the Moroccan Infusion Styling Oil.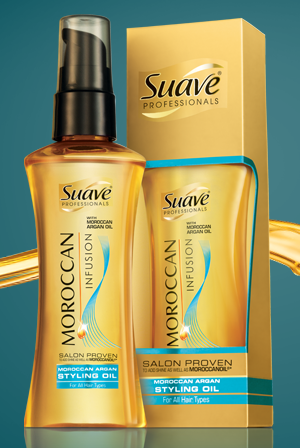 This weightless styling hair oil, infused with authentic Moroccan argan oil, is specially designed to dramatically revive hair. The ultra-light formula instantly conditions without weighing hair down, smoothing the cuticle for long lasting, silky shine.
Infused with Moroccan argan oil:
Noticeable, silky shine
Instant conditioning, touchable softness
Luxurious fragrance
I love how it makes my hair feel so weightless, and doesn't make me feel like I put heavy styling products in my hair. I even found all of these great tips on using it on the Suave website my favorite tips were these 2:
AFTER THE SHOWER – FOR STYLING
Use after the shower on damp hair to prepare for styling
Depending on hair length & thickness, dispense 2-3 pumps into palms and rub hands together
Apply from mid-shaft to ends, combing through to distribute evenly
Style as desired
Stylist tip: Can be used before blow-drying but also when air-drying
ON DRY HAIR – AS A FINISHER
Use as a finisher on dry hair for additional shine and to condition ends
Depending on hair length & thickness, dispense 1-2 pumps into palms and rub hands together
Gently run hands over the surface of dry hair. Avoid the roots.
Add to ends for additional shine and conditioning
Stylist tip: Rub Styling Oil in hands to warm it for easier, more even application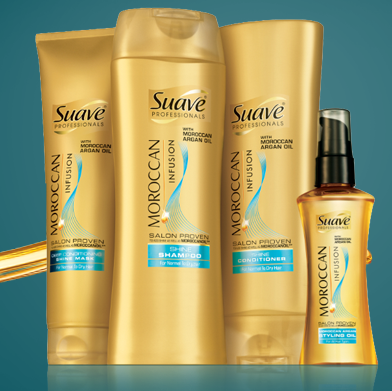 I have not tried any of the other Suave Professionals Moroccan Infusion products, but I will be as soon as I use up my current Suave Professionals faves (see my love for Suave). I would say that all of those articles I read about using Moroccan Oil in my hair were right, it does make my hair softer and shinier.
Comments
comments