In September I lost my full time job and decided to embark on taking my Social Media Marketing to full time status. I knew from day 1 I had so many of the things I needed to make it happen, but so much of the information was still missing too. Enter the book: When Talent Isn't Enough Business Basics For the Creatively Inclined. It was what the exact book I needed to fill in the holes in what I knew about being in business for myself.
Since I came from a Paralegal background I had a lot of the legal and accounting know-how to begin really pushing my business as my only job. I was interested in the parts about finding and securing new clients. Then I read the forward the last 2 paragraphs made me realize the author, Kristen Fischer wrote this book for me, and people like me.
…my hope is that it gives you information that is easy to understand and relate to, and hopefully enjoyable to read. Whether you go straight to the chapter that entices you most, or you read the book cover to cover, my wish for you is to find the tools you need.
Then I began reading the book, and she was right it is a perfect book to skip around and learn everything you need to build your creative business.
Let me also be clear that I was building my business for 3 years as a side to my full time work. I was so happy to see that this book speaks to both people who are building it in addition to day time work like I did, and those who are building it as their only job as I suddenly found myself doing. It's important to note that this book is perfect FOR BOTH types of business starters.
Why Creating Isn't Enough
Chances are, you realize that you need more than just your artistic side to make your business work. Obviously you will need to engage clients, which involves marketing and selling, too.
It doesn't escape any of us creative types that we need help in order to open our own business and the chapters about marketing myself really spoke to me and taught me a lot about how to better sell my "product".
I did read the chapters on the things I knew like the chapter titled Lessons on Legalese because I wanted to see if it was on point, and I was thoroughly impressed by Kristen's explanations of everything for those who may not understand what needs to be done legally. I was most impressed with her coverage on the importance of contracts.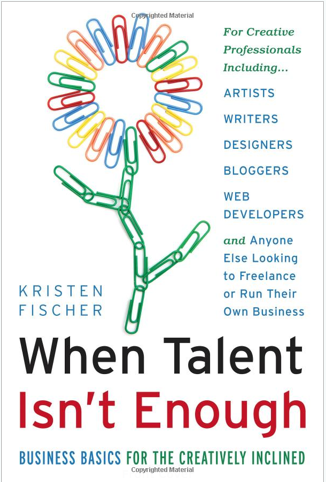 While I'm still learning a lot about being a creative minded business owner I feel like Kristen's book is leading my way to understanding better how to make my business a small success. I highly recommend you get yourself a copy of When Talent Isn't Enough: Business Basics for the Creatively Inclined: For Creative Professionals, (Including… Artists, Writers, Designers, Bloggers, … to Freelance or Run Their Own Business)
now!
To see more about what I can offer you in Social Media Marketing, or if you need Virtual Assistance please feel free to contact me and check out my site CB Media Solutions.
I received this book to review. The opinion above is my own swayed only by my inner Fashionista. Some links above are affiliate links.

Comments
comments