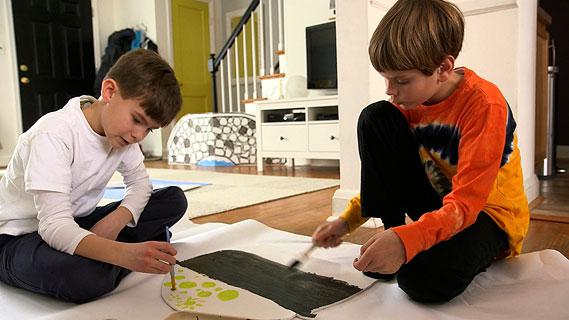 (Image credit: http://www-tc.pbs.org/parents/adventures-in-learning/files/2014/02/ail-writersclub-props.jpg)
Childhood is the best time to nurture a special talent. If you see your children pursuing an activity keenly, whether it's related to sports, arts, or academics, encourage them to excel at it. Introduce them to new techniques and forms of the same. Similarly, when you have a budding artist at home, introduce him to different genres and styles of painting.
Introducing children to classics that have influenced generations is a must. At the same time, parents must encourage their children to retain their individuality and style. Here we look at simple but effective ways to introduce receptive and developing minds to classic art work, and how to encourage budding talent to become exceptional and passionate artists.
Explain to Them the Basic Forms of Painting
When the foundation is strong, the finished product will be good. It is important to help children acquire strong basics. Enumerate and explain to your children the basic forms and styles of painting in a simple manner. Put it across interestingly. Encourage them to ask questions. Ask a few yourself to determine if they are really getting the concepts right. See if they know the difference between a landscape, a portrait and a still life painting.
You may need to do some research and study to know the nuances yourself. But the efforts will be totally worth it when you see the keen face and brilliant works of your little Da Vinci.
Have the Best Versions of the Classics at Home
Owning a Picasso or a Van Gogh is not possible. However, there are copies available today that are almost as good as the originals. Introduce your children to great art through these brilliant copies. Be careful only to pick hand-painted replicas and not the printed copies of the originals. The look and feel of printed copies is always inferior to hand-painted replicas.
Replicas make fabulous home décor pieces as well. So invest in a few of these and introduce your children to the classics. They will be sources of inspiration and information for your child.
Pick Artists and Works Children Can Relate To
Here Comes the Gobbler (1877) by Sophie Gengembre Anderson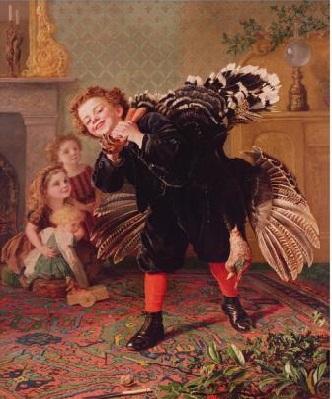 (Image credit: http://www.pinterest.com/pin/372602569140220884/)
Teach a child like a child would teach you. Like I mentioned before, whether you are explaining different styles of painting to them or talking about categories such as Impressionism or Modernism- be lucid, flexible and interesting in your method of teaching.
Pick works that children can identify with and easily comprehend. Start with something like Mary Casatt paintings, where the subjects are primarily children and babies. Children will immediately relate to those paintings when they see a father reading to his young son or a mother hugging her child. Through Mary Casatt's Impressionistic paintings you can introduce your child to the Impressionist Movement and its art work.
Similarly, introduce your child to pre-Raphaelite paintings through Sophie Gengembre Anderson's works, whose subjects are primarily young girls and women. Portraits may be among the toughest to draw on canvas but they can be instrumental in explaining the styles and nuances of painting. Paintings in bright colors usually fascinate children. Buy a few of these and hang them in the kids' room or in the living room. Let them understand and explore the colors and the backgrounds on their own. They can draw inspiration and ideas from the art they see. At the same time, encourage them to experiment with designs, colors and subjects to create unique and wonderful paintings of their own.
Take Help of the Internet
Don't underestimate the importance of theoretical knowledge in the pursuit of the arts. If you are not aware of the different types of paintings, the story of their origin, the tale of particular paintings, etc., don't feel flabbergasted or ill-equipped to provide knowledge to your child.
There are many blogs and sites dedicated to various art forms, discussing them in detail. Read up a few of those. You will be surprised at the store house of information available for free. Talk about what you read with your child. Look for famous paintings online, show them to your child, and discus their various aspects and elements.
Provide Training
Getting your child trained by an expert is a great way to push him to excel in his areas of interest. You can enroll your child in painting classes or have a certified painting teacher or professional come home and work with your child. Experts/teachers will also know how to groom your child's talent and give it the exposure it needs.
Encourage Participation
Encourage your child to participate in various exhibitions, contests, etc. where he can display his work. Prizes and appreciation will be a positive reinforcement and motivate him to continue to work hard. But since criticism is inevitable, train your child to take it in a positive spirit. Artists and their work are always scrutinized. When you prepare your child for this truth early in life, you will save him a lot of discouragement and demotivation later on.
I hope this post has thrown some light on how to nurture the artist in your child. If you found the ideas helpful, go ahead and try them and see your child bloom into a fine artist.
Author Bio
Sophia Mann writes on paintings and art. Her interest in the visual arts developed early when she attempted to duplicate a drawing her brother had brought home as a school assignment. She has been fascinated with this medium of artistic expression ever since. She also paints in her spare time.
Comments
comments