D6 Surfskimmer and also have a chance to WIN IT and other goodies at the #Surfskimmer #JerseyLove Twitter Party!

Hang Ten D6 Sports and the

#JerseyLove

Social Media For Social Good Moms are headed to the Jersey shore next week to give

#JerseyLove

!

We will be surfing, our kids will be surfskimming and with the generous support of D6 Sports, we will be making a donation to Belmar, NJ Mayor Matt Doherty for families that were displaced after Super Storm Sandy.

HOSTS: @D6SurfSkimmer @SMMoms @DawnSandomeno @hollywoodhotmom @njdigitalmoms
WHEN:Monday June 3rd – 9 – 10 PM ET
WHERE: #Surfskimmer and #JerseyLove with Tweetgrid: http://bit.ly/1163gqw
PRIZES:  D6 Surfskimmers, Hang Ten Gift bags and Shaun White Supply Co. Helmets
HOW: Follow #jerseylove #hangten and #surfskimmer hashtags and tweet with us. You MUST RSVP and Tweet to WIN.

a Rafflecopter giveaway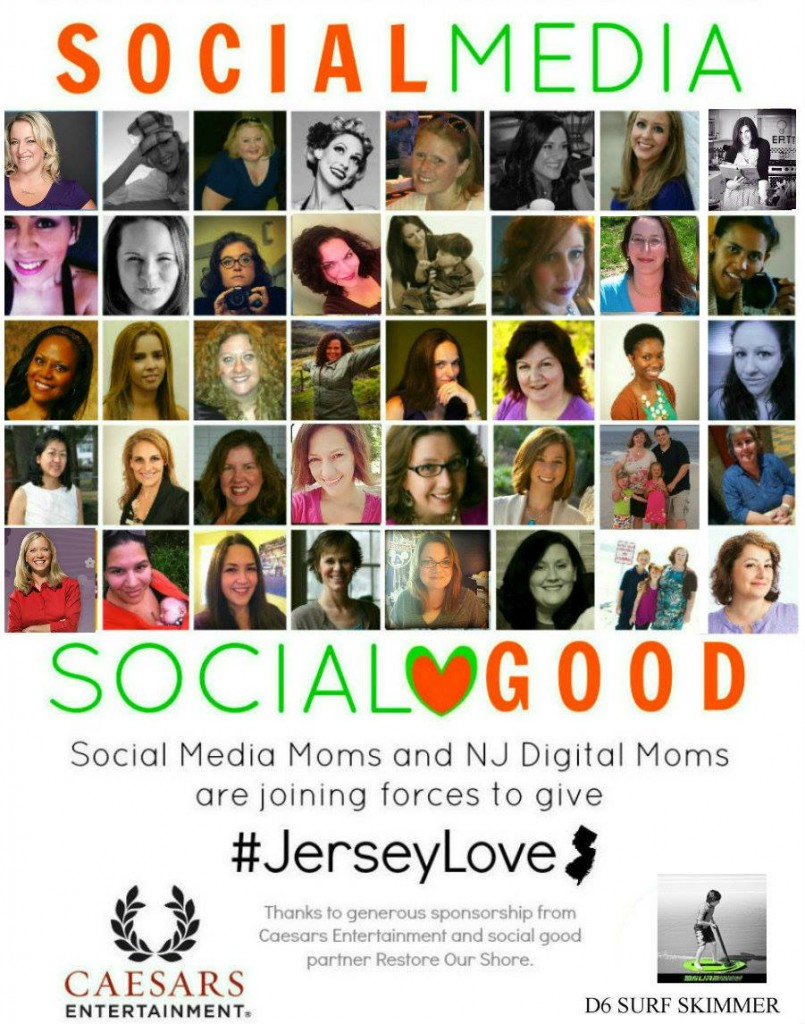 Meet the Social Media For Social Good team and follow them on twitter below. You can join them again LIVE online on
Friday, June 7th
in Belmar, NJ by following the #
JerseyLove
hashtag and
#Surfskimmer
.
Tweets from @FashOrganized/ladies-of-jerseylove
First- Of- Its- Kind Product Takes Over California And New Jersey Beaches With Bi-Coastal Launch
Introduction of Must-Have Summer Product at Zack's Pier Plaza in Huntington, CA June 1st with Belmar, NJ Boardwalk Reopening Celebration June 7th
COSTA MESA, CA – May 31, 2013 – D6 Sports, distributor and manufacturer of sporting goods focusing on the action sports and wheeled categories, today announced the debut of its first product, the SurfSkimmer, an innovative skimboard with gripper technology designed to give kids a chance to skim and advance quickly within minutes on the water.
"We are proud to announce the arrival of our first product, the SurfSkimmer," said Jeff Balaban, Senior Vice President, D6 Sports. "We have licensed brands and produced incredible sporting goods for many years, but to unveil our very own product that also happens to fall in to a new category in action sports is very exciting to us."
Debuting for public test runs at Zack's Pier Plaza in Huntington Beach on June 1st, the SurfSkimmer offers kids a hands-on skimboard experience that is both fun and safe. The SurfSkimmer is designed with gripper technology, a stable handle and sleek design allowing the board to glide effortlessly over the white wash giving kids the opportunity to experiment and excel in skimboarding. The handle easily comes off so each board has the ability to act as a traditional skimboard. The 2-in-1 functionality allows for easy learning and advanced maneuvers.
D6 Sports will also join over 40 women from Social Media Moms and New Jersey Digital Moms at the #JerseyLove Retreat in Belmar, NJ June 7th. Coming from all over the country, the moms will convene for the first time ever to utilize their social reach to help raise awareness for and promote the reopening of the Jersey Shore for the 2013 summer season. Now that the official ceremonies are over, the women want to document real families, moms and kids having fun to show the world that the Jersey Shore is still a great place to vacation and visit. They will do this by experiencing it in real life and telling their stories virtually on a myriad of social media platforms.
"I am a New Jersey native who has, literally, hundreds of friends and family members who were affected by Sandy so when we learned of this event, we had to get involved," said Ben Young, Vice President of Creative and Marketing for D6 Sports. "We have partnered with Eastern Lines Surf Shop to treat the moms to surf and stand up paddleboard lessons, while we introduce kids to the new SurfSkimmer. After the event, we will donate several boards to the local shops so people can continue to enjoy the beach all summer."
D6 Sports and the #JerseyLove Retreat moms will also present Mayor Matt Doherty with a donation to the Belmar Relief and Recovery foundation that was created to assist displaced families and help rebuild the Belmar Boardwalk after Superstorm Sandy.
For more information and to stay up to date on SurfSkimmer news, developments, event images and fun videos.
Twitter: @D6SurfSkimmer
Facebook: https://www.facebook.com/D6SurfSkimmer
YouTube : http://www.youtube.com/D6Surfskimmer
Instagram: @d6surfskimmer
SurfSkimmer-At-A-Glance:
Designed to give kids a chance to skim and advance quickly within minutes on the water;
The D6 SurfSkimmer is available this June at select retailers for $69.99;
The SurfSkimmer is a skimboard with a detachable arm extension and handlebar that allows kids to run and glide without losing balance;
Once kids are ready to ride without the handle, they can remove it and skim just like the pros.
For more information, please visit: http://d6surfskimmer.com
Comments
comments