Some people love the idea of shopping for a new wardrobe every season and others simply squirm at it -especially those who don't have the dollars to go for drastic makeovers every season.
What is the alternative then? Well, you can continue wearing your summer clothes paired with chunky sweaters in 10 degree Celsius weather, except it doesn't quite look great. It doesn't stand out, and is anything but stylish, since everybody – male or female, old or young – does that.
If you want to retain your sense of style as one season gives way to another, not break the bank, and be comfortable in what you wear, we have solid suggestions to sort you out.
Transitioning your wardrobe from warmer to cooler weather is actually very easy once you get the hang of it. You may have to, if you have never done this before, buy a few items initially but they will form the backbone of your wardrobe and will serve you well season after season, year after year. So that in the long term you will save a lot of money and continue to look effortlessly stylish regardless of the time of the year.
So let's get the ball rolling!
Tunics and Tights
Dresses are awesome, but we prefer tunics for the very simple reason that they are amazingly versatile.
They are feminine enough for all age groups, can be worn on their own as a short dress in warm weather, and easily can be transitioned to your winter wardrobe by pairing them with woolen tights.
Tunics and tights have got to be the best combination for those who love comfort, style, and hate spending long minutes every morning wondering what to wear.
Refer to the picture below for some quick ideas.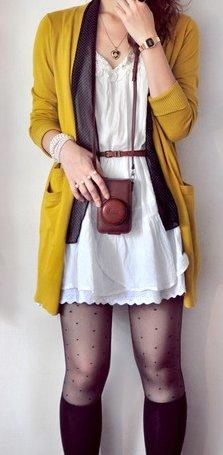 (Image credit: http://media-cache-ak0.pinimg.com/736x/66/5c/6a/665c6a1ad1217dba85300d79afd95ff9.jpg)
The dress in the picture can be worn on its own in the summers (the sheer leggings are optional). Pair it with smart gladiator sandals, the type that have been trending for the last few years and are also set to rock the fashion world in 2014 . That would be a classic summer combo. Cool, breezy, light, and flirtatious.
But by switching to woolen leggings instead of these light see-through ones, as the mercury starts dipping and we feel the need to cover up, will help the tunic transition from summer to autumn to winter effortlessly. Whether you pull on socks on top of the woolen leggings and wrap your legs in boots is up to you and depends on where in Australia you live.
Get the Right Accessories
A thing of beauty is joy forever. Nothing summery or wintery about these.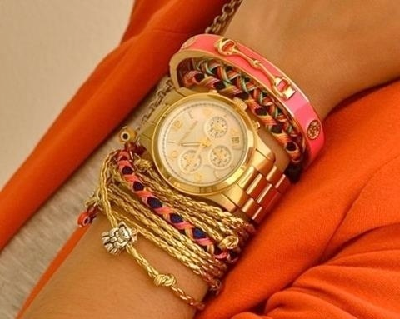 (Image credit: http://media-cache-ak0.pinimg.com/736x/22/4f/5d/224f5d89c0163f5ca5794f51fb4df631.jpg)
Accessories can make or break any look, and that is true regardless of the weather. For some reason women think that accessories are more suited to summers where more of what you are wearing is on display.
But the right accessories can do wonders for your looks in winters too.
For example, stylish snoods, watches, pearl and gold bracelets, colourful chandelier earrings that dangle from underneath your woolen cap, finger rings, and long and chunky necklaces – the types that don't get stuck in knitwear.
Most of these accessories can be worn year-round. The only winter-specific ones are hats and snoods. So we recommend building a good collection of these.
Keep Your Outer Layers Colourful
Layering as a suggestion is thrown around a lot but it is, in fact, quite an art that few have mastered.
With layering the challenge is that you don't want to look chunky, nor do you want to feel hot one minute, and cold the next.
Layering is essential though, as it is the only thing that will help you transition your wardrobe from season to season with ease.
The great thing about layering is that you don't need to change your innerwear much, just experiment with the outer layers – the kind of layers that are light enough to be worn even in warm(ish) weather.
Some of your options are:

1. Blazers
We are not referring to the CEO-type blazers here, but something infinitely more laidback. The kind you would expect a young woman to wear on a yacht. Loosely hanging on her frame, sleeves pushed up for a casual look. On top of a white vest and printed harem pants. The following is not a bad idea either.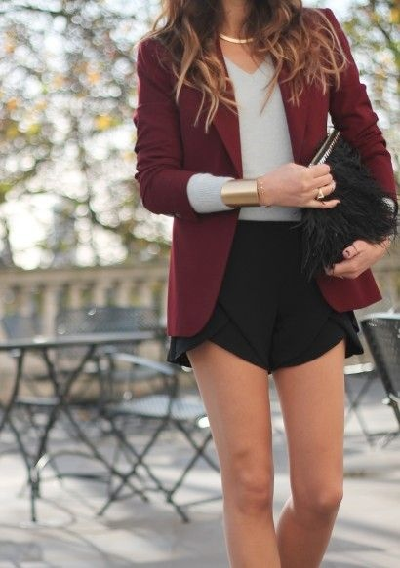 (Image credit: http://media-cache-ec0.pinimg.com/736x/6f/2f/8b/6f2f8bb2dd19d83d15bb527903137673.jpg)
Light and casual blazers are great for evening wear in summers and all-day wear in winters. We would expect you to wear such a blazer with just a spaghetti top underneath it in hot weather, and with a full-sleeved cotton shirt in winters.

2. Shrugs
These are a magical piece of clothing. Very feminine, very pretty, very versatile (there's that word again!), and rarely expensive. Shrugs can also be worn year-round, except for when the temperatures climb up to mid-30s. Even then you can slip one on if you work in an air-conditioned office (like I do).
In winters though, you can have fun with these. Whether a shrug is light or not doesn't really matter as it will only be one of the layers keeping you warm on chilly nights. However, long shurgs paired with tunics and leggings make for Pinterest-worthy pictures!
3. Light cardigans
These are perfect for Australian winters. They have no place in summers though, but we had to include them in this list because of how important they are for any cool weather wardrobe.

4. Ponchos
Not everybody's cup of tea but can look really good on some. Especially when paired with a pair of faded jeans and ankle boots. Again, a light poncho can be worn in summers as well as in winters (Australian winters, that is).

5. Pashmina shawls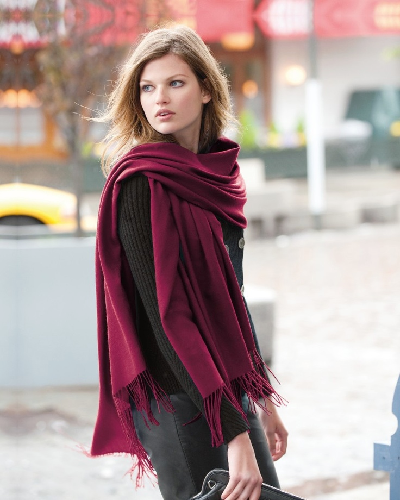 (Image credit: http://media-cache-ak0.pinimg.com/736x/d5/dc/dc/d5dcdcd1bfc7da20c12e19e03f2304ca.jpg)
These are criminally underrated both as a fashion accessory as well as winter wear. Pashmina shawls are beautiful and priced possessions. They are lightweight so that you can easily carry one in your purse. You can use it as a stole on cool summer nights, and as a shawl to keep you warm when it's officially chilly.
The Right Way to Layer Up
Mix your fabrics
If you are wearing a light top, put on a slightly warmer outer layer. A light cotton shirt inside, and a warm cardigan on top of it is a good combination.
But wearing a sweater inside and putting on a denim jacket on top of it? That's passé, and will make you a bit too hot. Not to mention, it will also make you look heavy in the upper body and if you are a curvaceous woman, that would be hardly flattering!
If you feel a sweater or a woolen shrug isn't enough to keep you warm, cover yourself up with a shawl or a poncho on top of it. Resist putting another sweater or worse, a blazer on top of a cardigan for the same reasons as mentioned above – it will make you look heavy.
Conclusion
The trick to transition your wardrobe effectively is to buy more pieces that you feel you will have a use for in any season — if not on their own than by easily teaming them up with other pieces. Everything else, like knit dresses, leather jackets, and full-sleeved heavy clothing, should be purchased in a lot lesser number. Keep your buys 80-20 in favour of pieces that you can use all year. This may not happen overnight, but you will be surprised how quickly you get there.
Author Bio :
Shayna Smith has been working as a freelance writer for a long time. She has a diverse background in shopping, fashion and style. She loves sharing her opinions on the latest fashion an expert on fashion discounts.
Comments
comments