You may have seen my post earlier this month about A's new Barbie MegaBloks mansion, and wondered where I was going to store such an intricate and multi piece toy. I was too. Those itty bitty pieces were driving me crazy and I needed to wrangle them quick. My 4 year old is the messiest of my 3 kids, and frankly doesn't put anything away. I had to do something and quick.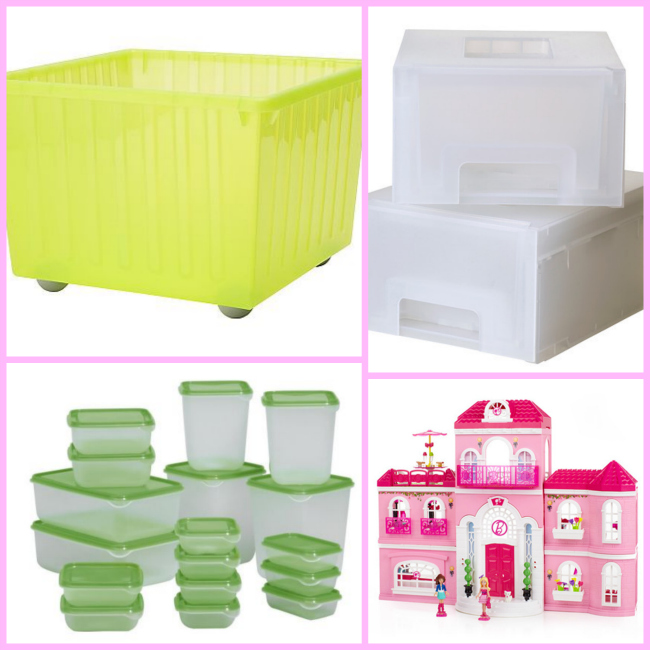 The supplies to wrangle Mega Bloks/Legos
Being as I'm on a tight budget I set my sites out to Ikea. We went straight to the kids area in the showroom and I let her help me pick out her Barbie storage. We found the VESSLA ($5.99) storage crate with wheels, and I knew that was going to be the main bin. She likes to take her toys around the house, so this would be perfect for her to maneuver with wheels already attached. I also found the KUPOL ($6.99) pull-out storage unit and got the 2-pack of the small ones because I knew that having a drawer like box would work well for the bigger pieces. I already had it in my head no matter what I bought I was going to the kitchen section to get  a set of the PRUTA ($4.79) food storage. I had used them in the past for toy storage and knew the sizes could be magical! I knew the smaller storage boxes would be perfect for the tiny little pieces. I'm glad I did, because those small containers are PERFECT for small Mega Bloks/Lego storage.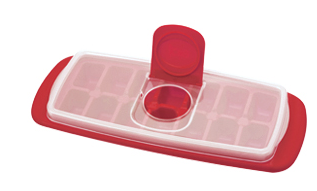 After I left Ikea satisfied I had gotten a good foundation for Mega Bloks storage I came upon the Joie Ice Cube tray ($4.99) at Bed Bath & Beyond. This ice cube tray is perfect for all of the itty bitty pieces, like cupcakes for the kitchen, that are the size of a baby's pinky finger nail.
Mega Bloks storage in action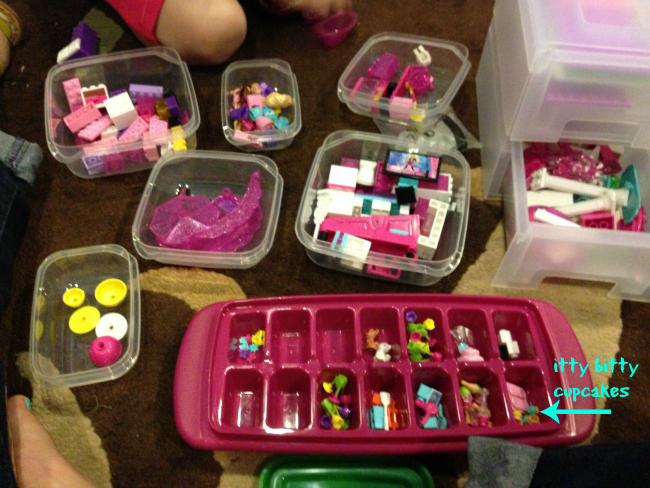 So I started to parcel out what should go where. It started out like above, but of course adjustments needed to be made.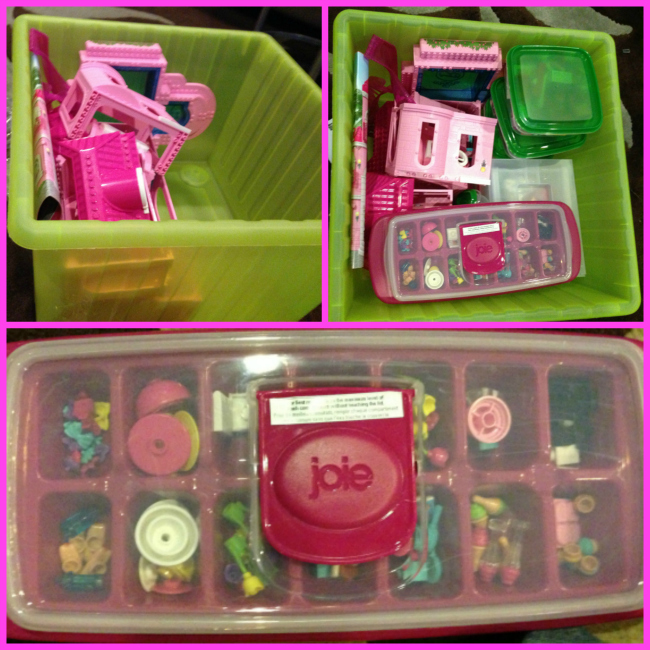 I think our plan worked out great. We have found a great solution to all of the itty bitty pieces, and A is actually keeping them all put away instead of all over the living room rug. This system holes the Barbie Mega Bloks mansion, pool & fashion stand. Plus I did it all for under $25.
Comments
comments