Who said that back to school season is just for the kids? When I was a kid I loved back to school shopping. I was lucky to have an amazing ritual of going back to school shopping with my grandmother. I feel like if she was alive today I'd still do a back to school shopping trip for her but as mom. While you're out shopping for your kids remember to get your back to school look put together.
Do you love your maxi dress for the summer? Don't fear you can get another one for the fall and pair it with a jean jacket and wedges that are to die for. To make it more fall-like go for jewel tone and deep fall colors.
If there's anything I can tell you to look for this fall is something in a deep blue like the purse below. A great pair of jeans are always a must every school year. In the last 10 years I've come to appreciate a great pair of flats. I cannot recommend a new pair of flats enough for you. They will become your flip-flops of the fall. I promise. You cannot go wrong with a new blazer to throw on any time.
What's your back to school musts for mom?
***********
It's Fashion Friday (#FashionFriday) all over the web…join the fun!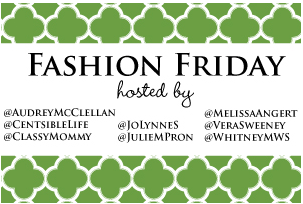 Comments
comments