Sometimes you want to add the ultimate in feminine touches to your outfit, and there is no better way to do that than some jewelry and shoes. There is something that you get by adding a little floral dainty rhinestone setting that adds a little girlyness to your look. Think Victorian or French accents to get a feminine flair. Adding pearls and rhinestones is always a safe way to go feminine too!
Here are some great ways to add feminine touches to your  outfit:
Add some pearls for an old fashioned feeling of femininity.
Lace covered shoes are femininity personified.
A cameo in a ring instead of a necklace is the perfect twist on classic femininity.
A beaded clutch with antiqued gold accents are a great way to enhance the girlyness.
My question to you is how do you add feminine touches to your wardrobe?
***********
It's Fashion Friday (#FashionFriday) all over the web…join the fun!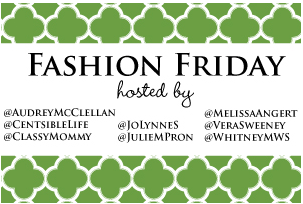 Comments
comments