There is a sexiness factor that cannot be disputed when wearing Menswear Inspired clothing for women. Whether it's a structured jacket or jeans with a tuxedo stripe down the side the effect is nothing but stunning classic chic!
This fall there's no reason why you can't reach out buy yourself an menswear inspired piece. Even consider teetering on the line of sexy. Wear a black suit with no shirt underneath and believe me you'll have heads turning. My only recommendation is to get some Hollywood tape to be sure your breasts stay inside the jacket.
A great texture and classic box pattern on a single breasted jacket would be sure to make any outfit put together with little to no effort.
Did you say tuxedo? Well if you did then flip it on it's side and add a tuxedo stripe to a pair of jeans and you have instant wow. Or get a jacket with a tuxedo like structure and you'll find yourself feeling a little 007!
A grey blazer with a pair of skinny jeans says classic style, but add a pair of oxfords and you have thrown this look on it's head in a very good way. Why not add a little more boyish charm to this look. Don't worry that pretty camisole will help add a little sexy factor.
What do you think of menswear inspired looks? Do you have a great piece inspired by menswear?
***********
It's Fashion Friday (#FashionFriday) all over the web…join the fun!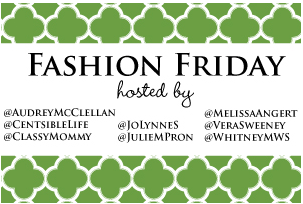 Comments
comments