As I wrote a few weeks ago we're seeing a lot of camo jeans this fall, and I realize that it's hard to tell whether a chic fashionista can wear a pair of camo jeans, and I'm here to tell you YES you can! You don't have to look like you're entering boot camp , or battle to make this trend chic and feminine. With a few lady-like touches you can make your camo jeans look and feel like your everyday look.
Want to go simple girly chic when wearing your camo jeans? Add a white button down shirt and a pair of simple flats. This look is not about hiding the camo but accentuating it with a soft femininity.
There's a great way to "dress" up your camo jeans just like any other pair of jeans add a blazer. A military inspired blazer while it goes with the feel of a camo this one has a peplum waist which brings a girly factor to it. However, I added a heel to this look to show you how you can make a pair of camo jeans work as you would any other pair of jeans.
Of course there's always the idea of adding a few buckles and studs to get a little more of a moto look to your camo jeans. It all starts with a pair of ankle zip camo jeans. We all know those zippers make us feel tough. The buckles on these ankle boots and the studs on the shirt are a great way to take this look more to a rougher side. Add a fitted beautiful leather (or faux) jacket to the mix and you're well on your way to showing you can be a tough lady too.
Do you have any other camo jeans tips for us? What do you think will you get a pair of camo jeans for your fall look?
***********
It's Fashion Friday (#FashionFriday) all over the web…join the fun!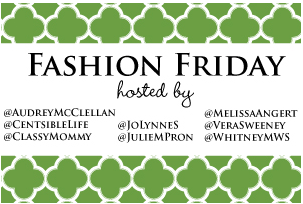 Comments
comments