One thing I'm asked a lot is how to get rid of all of the unwanted items. I've done many posts on cleaning out toys and getting rid of clothes, but what I want to touch on here is that by donating what you clean out to Goodwill® you are actually creating a job. Did you know that? Neither did I, but now I'm glad I've been donating to them all of these years.

A simple item donated to Goodwill® can help provide job training programs, employment placement services and other community-based programs for people who have disabilities, lack education or job experience, or face other challenges to finding employment. In fact, Goodwill is the leading nonprofit provider of job training programs and career services in the United States and Canada.

About Goodwill Industries International
Goodwill Industries International is a network of 165 community-based agencies in the United States and Canada with affiliates in 13 other countries. Goodwill is one of America's top 25 most inspiring companies (Forbes). Goodwill agencies are innovative and sustainable social enterprises that fund job training programs, employment placement services and other community-based programs by selling donated clothing and household items in more than 2,700 stores and online at shopgoodwill.com®. Local Goodwill agencies also build revenue and create jobs by contracting with businesses and government to provide a wide range of commercial services, including packaging and assembly, food service preparation, and document imaging and shredding. In 2012, more than 6.7 million people in the United States and Canada benefited from Goodwill's career services. Goodwill channels 82 percent of its revenues directly into its programs and services.
Donation Impact Calculator
Try Goodwill's Donation Impact Calculator. Go see how your small or large donation can make a huge difference in someone getting a job.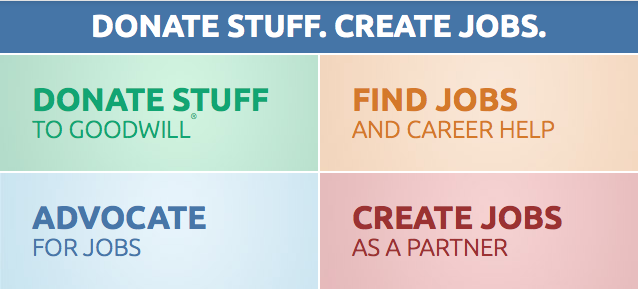 Who knew cleaning out your closet would not only let you feel free of your clutter, but help someone else get a job? It's pretty easy by just going to the Goodwill® site you can locate the nearest drop off and shop nearest you. What are you waiting for? Go clean out your stuff.
Comments
comments