Thank you to the fabulous Tali Wee of Zillow for this great Guest Post…
It's all too common to have a cluttered craft room. Piles of fabric, spilled glitter, paper trimmings, dried up paint palettes and crusted glue flecks can make a mess in creative spaces. Sorting through these materials can optimize productivity.
If the do-it-yourself (DIY) area is a chaotic mess, consider these seven tips to produce a refreshing, organized craft experience.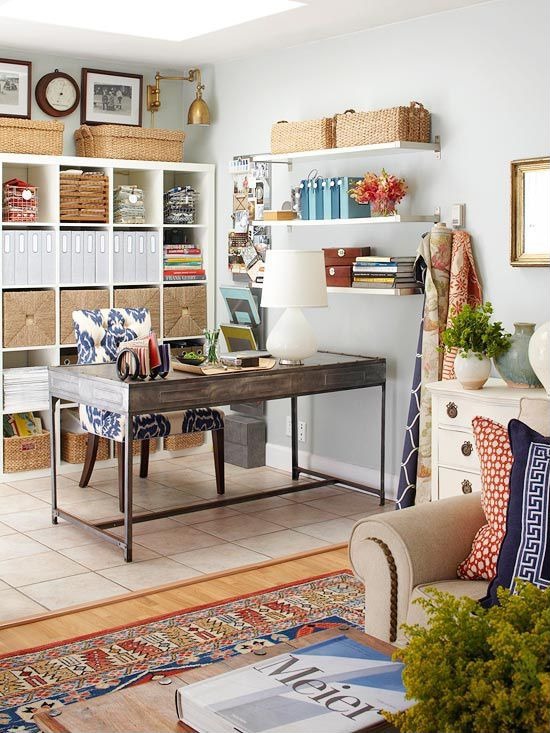 Binders
Use three-ring binders to store instructions and scrapbook paper. Make sure to incorporate page protectors to keep delicate papers intact. Separate paper based on pigment with color-coded tabs to better organize scrapbook materials. Another great use for binders is organizing sample fabrics, rather than letting them clutter cabinet space.
Jars
Clear mason jars provide a decorative way to store small trinkets and accessories. Designate a different mason jar for each category: buttons, charms, sequins and rhinestones. Display the jars on a shelf or attach them to the wall with t-bolt clamps. Save money by checking out the local thrift store for recycled mason jars.
Hangers
Utilize hangers in the craft space to proudly display ribbons and fabric while keeping them out of the way for a clutter-free space. Consider hanging materials in empty closet space, especially if the home doesn't have a designated creative space. Hanging materials protects the products and opens up the room when it's being used as an office, playroom or guest den.
Pegboard
Install pegboard to hang tools in an organized and easily accessible fashion. Pegboard can be painted or bordered with a decorative frame to keep it from looking like a garage storage piece. Make sure every piece of equipment has its own hook on the board. Once it's arranged, consider color-coding tools with their designated spots so guests can follow the structured method.
Repurposed Storage
Bigger items such as irons and sewing machines can be neatly put away in an old armoire or dresser. Consider shopping for such furniture at the local thrift shop or Craigslist, and put creativity to good use by up-cycling dated pieces. Add customized shelving to fit personal tools and utilize every inch of available storage.
Spice Racks
Have an extra spice rack sitting in the kitchen cabinet and taking up space? Spice racks make cute alternatives for small accessories such as glitter, pins and beads. Consider revamping the racks with paint to fit the style of the DIY area.
Designate Space
Die-hard DIYers may be lucky enough to have a designated project space. Those taking crafting from a hobby to a full-time job might even consider shopping for a new home with more square footage, proper welding ventilation and excessive natural light. Those who are operating in shared spaces can use shelves and storage pieces to separate a multipurpose room, so inevitable messes don't spill into an office or vice versa.
Whether an expert craftsman on Etsy or just a sporadic seamstress for friends and family, these tips can assist to control the clutter of a craft space.
Comments
comments