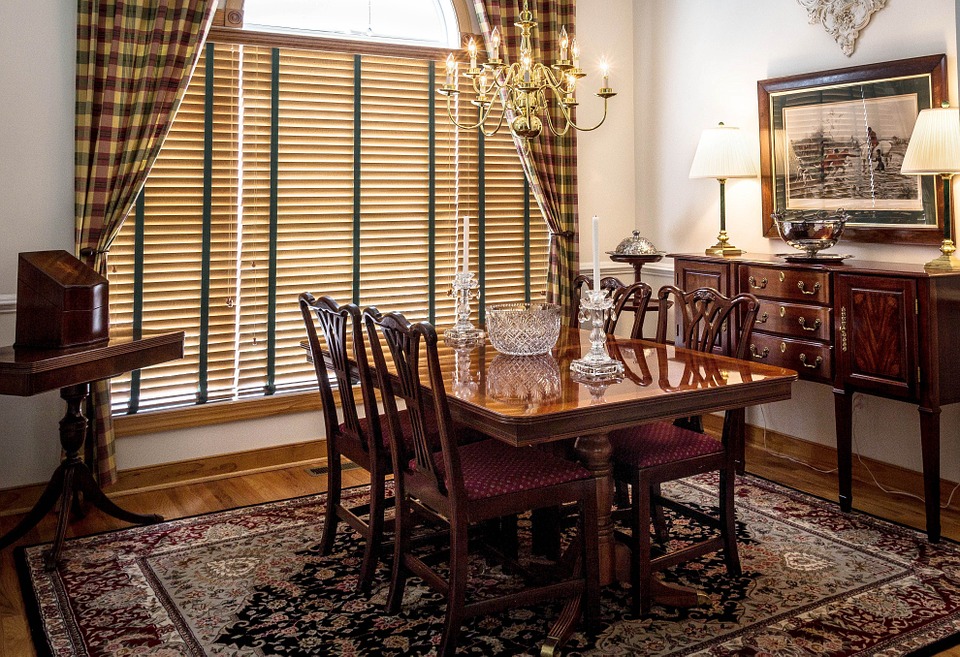 There's one room in your home that always seems to look the same. There's not much you can do with it. After all, a dining room is simply a dining room. You need a table and chairs. Sure, you can add a few decorations; a personal touch. But when it comes right down to it, it's simply a room with a table and chairs. What can you do?
How can you add a little character and make it one of the most inviting rooms in your home?
Your dining room can be a multifunctional space. It's definitely an eating space. But you might use it for a craft project, for homework, for entertaining. You may use it for everyday meals or reserve it for special occasions.
Regardless of all the uses your dining room will see, the space should focus on both practicality and aesthetic appeal.
Yes, it starts with a table and chairs. But even your final selection of dining room furniture will have a major impact on how much time you'll spend in the room. Whether you want a space that feels traditional or modern, comfortable or elegant, there are a few rules of thumb to offer style and character to your dining room space.
1. Lighting
In many cases, having a great dining room starts from the ceiling down. Nobody wants to linger in a room where the lighting doesn't match the mood. Soft, romantic lighting can cause guests to linger over great conversation. Brighter light can give you the space you need to work well into the night. And in most cases, a small pendant light or chandelier may not have enough power to bring in the necessary light.
Consider adding light from other sources. Sconces work great over sideboards. Table lamps can sit on small tables or credenzas. You can place these throughout the dining room, using dimmers so you can control the amount of light you let in, setting the mood to whatever you desire.
2. Serving and Storage
A dining room isn't meant for eating alone. It's a place to put your best dishes on display. A place for you to keep food ready at hand. Often a dining room has many other surfaces besides the dining room table and chairs. Sideboards, buffets, servers or credenzas can all be used for storage, holding food, serving pieces or drinks.
There are many differences between these pieces, such as the leg height, the surface height, or the functionality. The surface is usually used for serving a buffet meal, or for extras during a meal that are too large to sit on the table. They are also good for holding desserts, water or wine, to have quick access rather than returning again and again to the kitchen. Make sure you measure and leave enough distance between chairs and your sideboards for ample movement (about three feet of distance is a good rule of thumb).
3. Table Surface
When it comes to dining room furniture, the table often takes center stage. That's because it sets the tone for the rest of the room. Is it one size or can it be transformed? Is it elegant, demure, or demand all the attention? This is often the best place to start, and the first thing to consider.
4. Upholstered Chairs
Upholstered dining room chairs can give the dining room a chic, modern look. And when it comes to upholstery, anything is possible. Choose a pattern that is bold and wild. Or keep it neutral with a sleek natural color. You can divide it up in so many ways. Consider big, bold end chairs with bold patterns and textures to add depth to a room. Or place a more expensive, patterned fabric on the back of a chair, reserving a more durable upholstery for the seat. With so many options, talking with a designer and making your selections will be one of the more interesting part of your design process.
5. Metallic Touch
Metal is no longer something to avoid. From modern touches to a traditional vibe, metallics may be the perfect thing to incorporate into your final dining room design.
Warm metals have become one of the most popular choices around; think brass, copper or pink gold. Yet cooler tones never go out of style; think steel, bronze and chrome. Any dining room can integrate trendy metallic colors with lighting fixtures, decorations, chair legs, even bold metal sideboards and credenzas with more traditional wood tables and chairs. If you like it and it works for you, there are ways to bring it to life.
6. Nook Bench
Not all dining room seating has to remain the same. Why not include bench seating along with more traditional chairs? Using benches serves many functions. It can tone down your décor, making it more comfortable and relaxing. It can keep things low maintenanc, with solid wood construction.
In some cases nook benches can double as storage, offering drawers or cubbies to hide odds and ends away. Best of all, nook benches can make tiny dining spaces look even larger, increasing functionality on a greater scale.
7. Bold Colors
Dining rooms are often intimate places in your home. They are the perfect place to go bold and create a place for people to linger and share. Using rich hues creates a sense of intimacy and is a great way to add drama to the dining experience. Balance light or neutral dining room furniture with dark colors. You'll often see deep reds or greens playing a big role in creating the perfect atmosphere.
8. Play With Patterns
While color can make a bold statement, a pattern can add in rich detail. There are many ways to introduce patterns into your dining room. Try adding it to the upholstery on your chairs. As an alternative, play it up in the drapery. If you decide to use a bold pattern, keep the rest of the décor sleek and simple.
Designers usually choose one item for boldness, then play it up with all other pieces to match and complement. This is where our design staff can help you make wise decisions you'll love living with for years to come.
9. Tableware
Sometimes it's the little things that can add the most character. It's also something you can change out regularly. Tableware is something that is relatively inexpensive, yet provides unlimited possibilities when designing the perfect meal. Use everyday dishes for everyday use and unique pieces for special occasions.
In today's world, you can find dishes for every holiday, in bold colors and patterns to match any style. And no need to match every piece to one another. Instead, build slowly. In many cases, patterns can stay in style for years. Or mix and match creating your own eclectic style.
10. Plan For The Future
Making split decisions based on current wants and desires is easy. That's also where you end up making costly mistakes. Dining room furniture is something you can hang onto for generations if you purchase high-quality pieces. It's something that can look just as beautiful years from now as it does today if its well maintained.
The key is starting with quality from the beginning.
Redoing your dining room? Looking to add character and style to your home furnishings? Stop by today and let us show you the perfect dining room furniture for your taste, your personality.
Guest Post By:
Lili has been with Paul Schatz Home Furnishings for well over 10 years.  Lili has a great design talent for understanding the wants and needs of each client in creating their space.  She also has a wonderful way about herself at making each and every one of her clients feel special.  When Lili isn't working on one of her many design projects, you can find her taking long walks or dining with good friends.
Comments
comments